All-In Truck Bet Pays as Fiat Chrysler Bucks U.S. Auto Slowdown
(Bloomberg) -- Fiat Chrysler Automobiles NV was first with a plan to cull its car lineup. A week after General Motors Co. followed suit and sounded a death knell for many of its sedans, the merits of this move are coming into clearer focus.
Fiat Chrysler's 17 percent jump in November U.S. deliveries led a better-than-expected month for the industry. The seasonally adjusted annualized rate of sales accelerated to 17.55 million, according to Automotive News, exceeding analysts' average estimate of 17.3 million.
The standout figure in Fiat Chrysler's results was a 42 percent surge in Ram pickup sales. Combine that with gains of at least 20 percent for the Jeep SUV brand's Cherokee, Wrangler and Compass models, and it's easy to see Fiat Chrysler's strategy of focusing on light trucks is paying off.
Ford Motor Co. has followed suit in retooling car plants to make better-selling SUVs and trucks, but it's been a bit slower to make the switch. Its light-vehicle sales slipped 7.1 percent, a less-steep drop than analysts projected.
GM, which just announced plans to jettison models including the Chevrolet Impala and Cadillac CT6 sedans next year, was said to have posted a 1.4 percent increase in total deliveries. The company, which moved to quarterly sales reporting earlier this year, beat expectations for a decline by boosting deliveries to fleet customers.
Toyota Motor Corp., Honda Motor Co. and Nissan Motor Co. all missed analysts' average estimates. All three are more reliant on sedans than their Detroit counterparts. Demand cratered last month for the likes of the Honda Fit, Toyota Camry and Nissan Altima.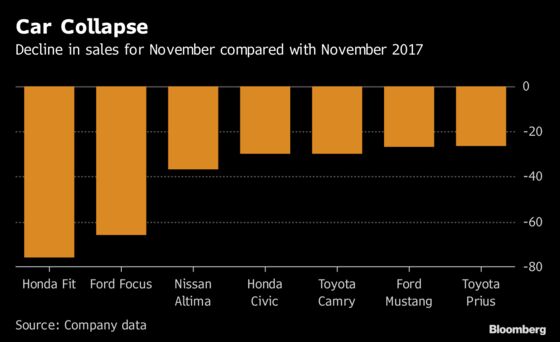 For all the attention usually paid to monthly sales results, auto shares traded on tariffs Monday. Carmakers' stocks rose on President Donald Trump's tweet claiming that China had agreed to "reduce and remove" tariffs on American-made vehicles.