Key Congo Opposition Leaders Join Forces for Presidency Bid
(Bloomberg) -- Two of the Democratic Republic of Congo's most popular opposition politicians joined forces to compete in next month's presidential election.
Felix Tshisekedi, the head of Congo's biggest opposition party, will run for president backed by Vital Kamerhe, who came third in the last election in 2011, Kamerhe said Friday in the Kenyan capital, Nairobi, where the two leaders signed a cooperation agreement. The duo agreed that Kamerhe will serve as Tshisekedi's prime minister and that they will swap roles after the next election scheduled for 2023, according to the agreement.
The two are "going to work for peace in Congo," Tshisekedi said. "One of our key priorities is bringing peace to eastern Congo." Congo's eastern region, a Kamerhe stronghold, has been blighted by inter-communal violence for more than two decades.
Even though the duo are joining forces, their joint ticket will split the opposition vote and raises the likelihood that President Joseph Kabila's chosen successor, Emmanuel Ramazani Shadary, will win the Dec. 23 vote to lead the world's largest cobalt producer.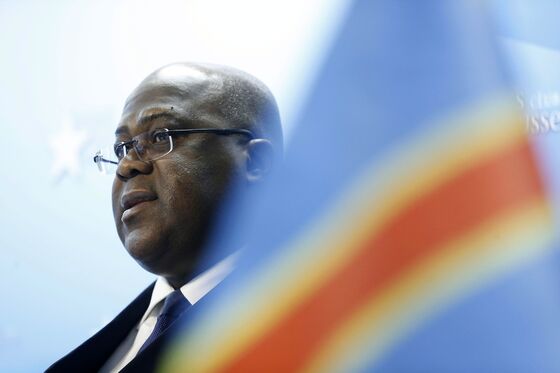 Seven opposition politicians, including Tshisekedi and Kamerhe, agreed on Nov. 11 to support the candidature of Martin Fayulu, who heads a small political party in Congo's National Assembly. The duo backtracked 24 hours later, saying their supporters wouldn't allow them to step aside for Fayulu.
Tshisekedi topped an opinion poll published last month by New York University's Congo Research Group with 36 percent, while Shadary and Kamerhe were second and third with 17 percent and 16 percent respectively. Fayulu scored only 8 percent, but retains the backing of Moise Katumbi and Jean-Pierre Bemba, political heavyweights who were barred from contesting the presidency.
Tshisekedi and Kamerhe's accord dictates that the party which occupies the presidency will cede other key posts such as the finance and justice portfolios to the other group. They will return to the Congolese capital, Kinshasa, on Nov. 27 and appealed for supporters to welcome them home.
"The big fight for Congo now begins," Kamerhe said. "I ask you Congolese to support this ticket. It is a winning ticket."