Kering, Moncler Slump on Concerns Stellar Growth May Have Peaked
(Bloomberg) -- Shares in luxury goods companies Kering and Moncler retreated in European trading after spectacular but slightly lower than anticipated quarterly figures for the white-hot Gucci brand triggered fears the stocks may have peaked amid potentially weakening sales to Chinese customers.
Kering SA dropped as much as 7.8 percent, its steepest intraday slide in more than two years, and traded 7 percent lower as of 12:10 p.m. in Paris. Moncler SpA fell as much as 1.6 percent in Milan, adding to Thursday's 3.5 percent post-results slump.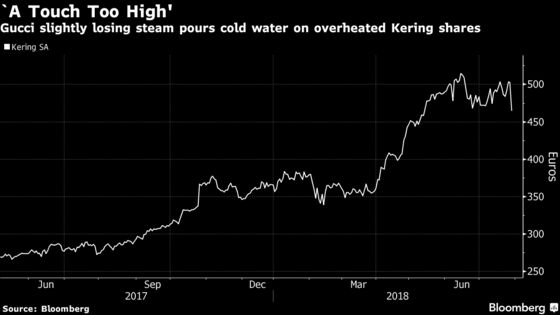 "Investors are torn between the current strength of Chinese demand and the signals that point to a possible slowdown in the second part of 2018," Luca Solca, an analyst at Exane BNP Paribas, wrote in an e-mailed response to questions from Bloomberg. "There's a desire to take profits, in particular for those stocks that have performed best, such as Moncler and Kering."
Kering late Thursday reported second-quarter sales gains at its leather-products focused Gucci label that came in slightly below expectations, at 40 percent. Though still a growth rate that most rivals would envy, it was less than the previous quarter's 49 percent pace. "All eyes were on Gucci" and the "bar was set a touch too high," Zuzanna Pusz, analyst at Berenberg in London, wrote in a note.
Moncler shares started dropping Thursday after the clothing company posted a 27 percent jump in currency-adjusted first-half revenue. Analysts at Fidentiis said at the time that Moncler will face "challenging" year-earlier comparisons in the second half.
Several analysts have been warning about possible overheating in the valuation of Kering and other luxury stocks for a while. Escalating trade tensions also could weigh on sales of pricey handbags, expensive jewelry, watches and designer clothes, should the disputes damp worldwide economic growth. Even so, Kering Chief Financial Officer Jean-Marc Duplaix said on a call that his company hasn't seen a slowdown in demand from Chinese consumers "at this stage."
A worst-case scenario for a global trade war could lead to a 30 percent drop in European luxury stocks as consumer sentiment withers, UBS Group AG wrote earlier this week.
Kering's results dragged shares of peers lower on Friday, including LVMH Moet Hennessy Louis Vuitton SE, Burberry Group Plc, Hermes International and Hugo Boss AG.
"It's fair to say that the sector's valuation is more and more becoming a concern," Christian Guyot, analyst at Invest Securities, said in an interview.