Struggling State Companies Pose $3.5 Billion Risk to Kenya
(Bloomberg) -- Kenya faces a fiscal risk from struggling state-owned enterprises, 18 of which may need as much as 382 billion shillings ($3.5 billion) to survive over the next five years.
The companies, including Kenya Power, Kenya Railways Corp. and East African Portland Cement Co. are not profitable and have a combined financial shortfall of around 70 billion shillings annually, National Treasury Secretary Ukur Yatani said in an emailed statement on Thursday.
The government is reviewing its companies as part of an International Monetary Fund program to improve their governance, financial oversight and address debt vulnerabilities. Kenya wants to halt the burden of the Treasury continuing to support the entities, and avoid a systematic fiscal risk.
"If these challenges are not addressed, they may crystallize into significant fiscal risks to Kenya's economy," said Yatani. "Transfers to state corporations are no longer proportional to the social and economic benefits," he said, "limiting public resources available for investment in other critical areas of national development."
Kenya has approximately 260 state companies. Treasury's assessment of the 18 found only four, including Kenya Ports Authority and Kenya Pipeline Co., are profitable and have regularly paid dividends, according to the Treasury's findings.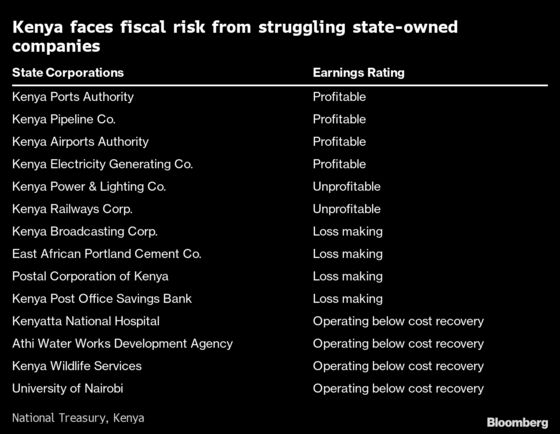 "Government has to find ways to free up revenues so as to meet its main obligation," said Tony Watima, a Nairobi-based independent economist. "Budgetary support going towards these state corporations is one of them."
Kenya Airways, which received 28 billion shillings from the exchequer in the fiscal year through June, is not included in the financial assessment because "it has retained an international aviation consultant to undertake a forward-looking evaluation," Treasury said.
To plug the liquidity gaps, the government is considering reforms to boost revenue and lower spending, new concessional borrowing, deferring loan repayments, debt-equity swaps and additional transfers from the exchequer, Yatani said.
"The big challenge in reforming State corporations in Kenya is corporate governance," Kennedy Masime, executive director at Nairobi-based Centre for Governance and Development, said by phone. "Most of them have been captured by political patronage."