Kenya's Oft-Revised Fiscal Gap Is Its Achilles Heel, Citi Says
(Bloomberg) -- Kenya's budget deficit is its Achilles heel and investors want to see real proof that it's being tamed in a sustainable way, according to Citigroup Inc.
In November the National Treasury of East Africa's biggest economy raised the budget-gap projection for the year through June for a third time to 6.3% of gross domestic product. In recent years, the finance ministry repeatedly modified its financing shortfall and failed to hit those forecasts, making its estimates seem unreliable.
"What people want to see from the Kenyan government is the reduction in fiscal deficit over a number of years," Citi's chief economist for Africa, David Cowan, said in an interview in the capital, Nairobi. "If you look back, the inability to meet previous fiscal-deficit targets would make the market a little bit weary until there is some proof in the pudding that these guys have brought down the fiscal deficit."
Still, Cowan said the government is on track to meet its latest budget-deficit forecast.
President Uhuru Kenyatta confirmed Ukur Yatani as Treasury Secretary last month after he acted in the role for six months. While this has lifted investor sentiment, the goodwill could be lost if the budget in June shows the county is far from realizing fiscal-deficit targets, Cowan said.
Another positive is that for the first time in a long while, Kenya's budget policy statement has "realistic revenue projections, which then act as the brake to the spending envelope," Cowan said of the expenditure guide for the fiscal year that begins on July 1.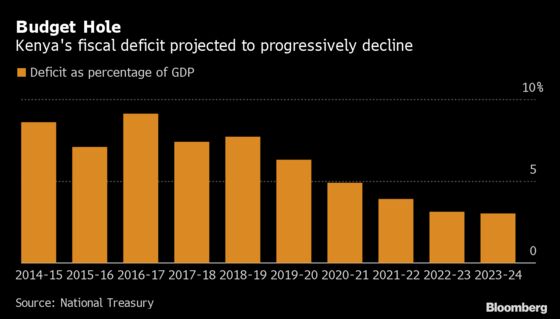 Treasury said last week its budget shortfall for the fiscal year through June 2019 was 721.1 billion shillings ($7.17 billion), or 7.7% of GDP. In 2020-21, it's aiming for 571.2 billion shillings, or 4.9% of GDP. By 2023-24, it plans to be in line with the East African Monetary Union's 3% target ceiling.
The economy will expand by between 5.3% and 5.5% this year, supported by the state clearing pending payments from 2019 and steady farming output despite a locust invasion, Cowan said. That's slower than growth of 5.7% last year, and below the central bank's 6.2% projection for 2020.
Read more
Kenya Debt Expansion Slows, Making Target Easier to Meet: Chart
Kenya Central Bank Projects 2020 GDP Growth Accelerating to 6.2%
Kenyan Economy May Expand 5.9% This Year: Stanbic