Kenya Inflation Quickens to 18-Month High on Food, Gas Prices
Kenya's inflation accelerated to an 18-month high in August driven by higher food and gas prices.
Consumer prices rose 6.57% from a year earlier, compared with a revised 6.55% in July, Nairobi-based Kenya National Bureau of Statistics said in an emailed statement on Tuesday. The median of four economists' estimates in a Bloomberg survey was 6.5%. Prices rose 0.23% in the month.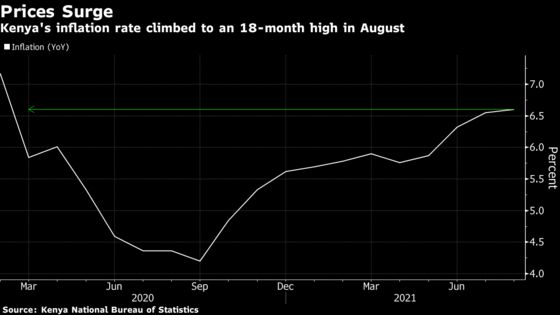 Inflation still remains within the central bank's target range of 2.5% to 7.5%. That may allow the central bank to continue to hold the benchmark interest rate to help East Africa's largest economy recover from the coronavirus fallout. The monetary policy committee is scheduled to meet on Sept. 28.
The food and non-alcoholic drinks index, which comprises a third of the inflation basket, rose 10.67% from a year ago due to the increase in the cost of items such as cabbages, spinach and oranges.
Housing, water, electricity, gas and other fuels index, with a weighting of 14.6% in the inflation basket, grew 5.07%. That was fueled by an increase in cooking fuel and electricity prices and house rentals. A new value-added-tax on cooking gas came into effect July 1.
Going forward, an inflation adjustment of almost 5% on excise duties on items including gasoline, bottled water and alcoholic drinks, effective Oct. 1, could add inflationary pressures. Economists surveyed by Bloomberg predict inflation to average 6% this year, compared with a previous estimate of 5.8%.