Kenya Holds Rate at Three-Year Low as Inflation Is 'Anchored'
(Bloomberg) -- Kenya's central bank kept its benchmark interest rate at a three-year low for a second time even as concerns mount about an expected acceleration in inflation from higher fuel prices.
"Inflation expectations remained well anchored within the target range," Governor Patrick Njoroge said in an emailed statement Tuesday from the capital, Nairobi. The monetary policy committee, which has a target range of 2.5 percent to 7.5 percent for inflation, last cut the rate in July.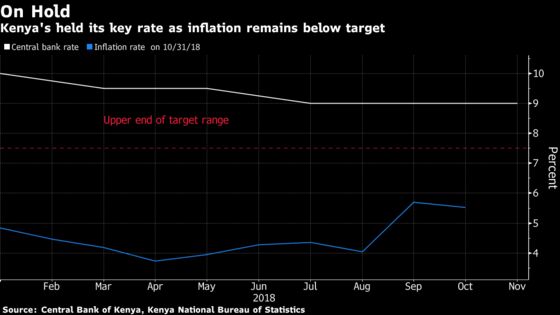 Tuesday's decision to hold the rate at 9 percent was in line with 10 analysts surveyed by Bloomberg, who cited inflationary pressure expected to build on the back of first- and second-round shocks brought about by fuel prices.
The shilling has lost 2 percent since touching a peak of 99.87 shillings on July 16. The currency, which was down 0.2 percent to 102.72 by 4:36 p.m., has been on the back foot since the International Monetary Fund said it was overvalued by more than 17 percent and that it was no longer considered a "floating currency."
What Our Economists Say ...
"I was expecting the CBK to move towards hiking in the first half of 2019 as the petroleum VAT added to pressures from a turnaround in food prices. But food prices have kept on dropping and with the oil price falling, inflation should remain within target in the near term so a move toward hiking now looks less likely. The CBK is normally more tacit than for instance the Bank of Uganda about risks to the exchange rate, so it is hard to say how concerned they are about that."

-- Mark Bohlund, Bloomberg Economics