Kenya Holds Key Rate at Three-Year Low as Inflation Seen Steady
(Bloomberg) -- Kenya's central bank held its benchmark rate at a three-year low as inflation is expected to remain in its target range.
The Monetary Policy Committee, which was fully constituted with nine members for the first time in five years, kept the rate at 9 percent, central bank Governor Patrick Njoroge said in a statement emailed Tuesday from the capital, Nairobi. That was in line with all 11 projections in a Bloomberg survey.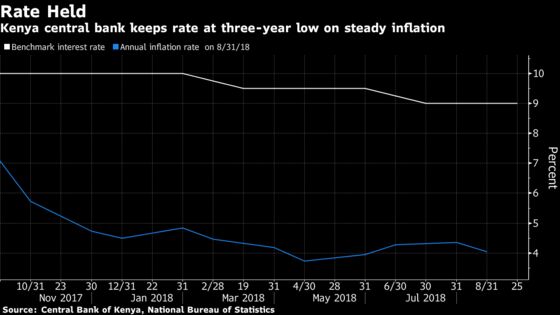 "Overall inflation is expected to rise in the near-term, following the implementation of value-added tax on petroleum products in September 2018 and its impact on other prices, as well as increases in international oil prices," Njoroge said. "However, it is expected to remain within the target range due to lower food prices reflecting favorable weather."
The central bank of East Africa's biggest economy unexpectedly cut the rate in July, citing below-potential growth. While the MPC has said there is room for a more accommodative stance, price pressures due to the introduction of a tax on fuel and the decision by lawmakers to not repeal a law capping commercial borrowing costs at 400 basis points above the key rate is complicating the regulator's policy-setting ability.
The annual inflation rate fell to 4 percent in August after rising in each of the three preceding months. The bank targets a range of 2.5 percent to 7.5 percent. Price growth may exceed the upper end of the band as food and energy prices climb, said Yvonne Mhango, an economist at Renaissance Capital.
"In retrospect, one of the reasons the central bank cut rates recently a little against the grain was exactly because they could see the inflationary bump coming and the room for maneuver closing," Aly Khan Satchu, the chief executive officer of Rich Management Ltd., said in an emailed response to questions.
The central bank anticipates that the economy will expand 6.2 percent in 2018, higher than the Treasury's target of 6 percent and the consensus expectation of 5.6 percent.