Kenya Holds Rate at 3 1/2-Year Low as Inflation Set to Ease
(Bloomberg) -- Kenya's central bank retained its key interest rate at a 3 1/2-year low as inflation remained within its target range and is expected to decelerate.
The Monetary Policy Committee held the rate at 9 percent, Governor Patrick Njoroge said in an emailed statement Monday from the capital, Nairobi. That matches the prediction of all nine economists in a Bloomberg survey.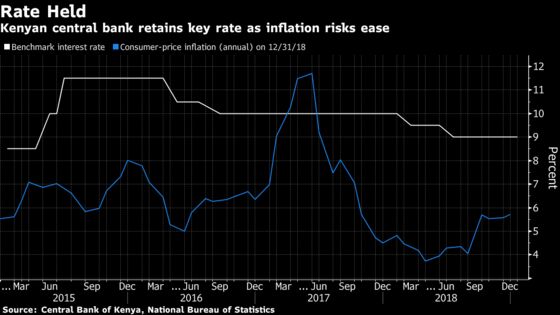 The MPC said economic growth is expected to "remain strong," in 2019. The International Monetary Fund sees the economy expanding 6 percent, and the National Treasury estimates 6.1 percent.
The committee sees inflation, which was an annual 5.7 percent in December, remaining within the target bank of 2.5 percent to 7.5 percent because of lower food prices and declining crude oil prices internationally.
Private-sector credit grew at 2.4 percent in 2018, the lowest rate since 2016, missing the central bank's target of 8 percent; it's expected to strengthen in 2019, "with the anticipated higher economic activity and easing credit risk," Njoroge said.