Ken Moelis Sounds Alarm on Extra Leverage Hidden in the System
(Bloomberg) -- Ken Moelis, the founder of investment bank Moelis & Co., is sounding the alarm over investors who borrow to take risks in the stock market as it reaches new heights.
"It'll all come down to leverage, it always does," Moelis said Tuesday in an interview on Bloomberg TV. "I would just discourage people from taking on that marginal bit of risk on leverage. Time is your friend here, and leverage is your enemy, because leverage is uncontrollable."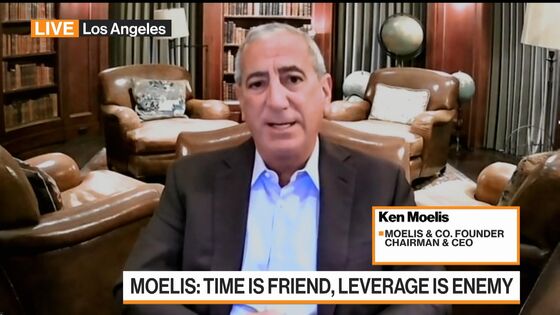 Moelis, whose firm advises on mergers, restructurings and capital raising, said corporations' mounting leverage could become a concern if the economy doesn't bounce back enough to compensate for the additional cash flows companies will need to cover debt. While he doesn't see a system-wide concern, he warned there could be issues under the surface that only come to light if the market deteriorates.
Moelis said his firm's lack of debt gives it flexibility that larger banking rivals don't have.
"Our big competitors, even the most solid ones, are levered 10 or 12 to 1 -- that's just the way a big bank works," Moelis said. "When things get in trouble, they have to pull back. We do the opposite. We have no leverage, and we move forward. I like to get aggressive when everybody else is moving backward."