KAZ Investor RWC Pushes Board to Scrap $2.4 Billion Buyout
(Bloomberg) -- One of KAZ Minerals Plc's top investors is pushing its board to scrap a proposed 1.8 billion-pound ($2.4 billion) buyout from the Kazakh copper miner's chairman.
The deal process should be terminated, as it's "inconceivable" that minority investors will accept the offer of 640 pence per share, RWC Partners Ltd. wrote in a letter to KAZ directors seen by Bloomberg News. Copper has risen 18% since KAZ agreed to the proposal in late October, and the London-listed company's shares were trading at 722 pence at 8:38 a.m. in London on Thursday.
"We think the bid will fail as it materially undervalues the company," James Johnstone, co-head of emerging and frontier markets at RWC, said by phone Wednesday.
The offer from Chairman Oleg Novachuk's Nova Resources BV doesn't attribute any value to its growth projects, RWC said in the Jan. 8 letter. The investment firm owns 3.3% of KAZ, according to data compiled by Bloomberg.
"Nova Resources should recognise that they will be unable to de-list the company and should immediately begin to harmonise relations with minority shareholders," RWC wrote. "It would be more beneficial for all shareholders if the company were able to focus on being one of the world's lowest cost, publicly-listed copper miners rather than continuing along the current path of investor discord."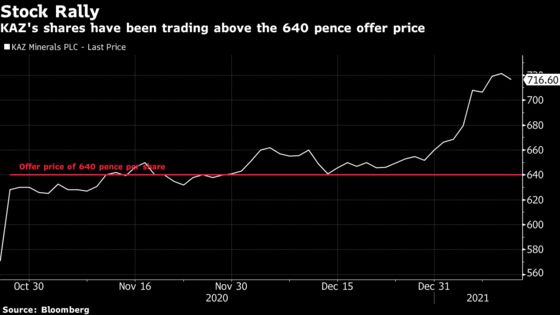 Copper's long-term demand prospects continue to grow amid the global push to reduce carbon emissions, RWC said. The proliferation of electric cars and rollout of green city infrastructure is set to expand demand for the metal.
Future supply from miners like KAZ will be "sorely needed" to satisfy this growth, according to the fund manager. Deutsche Bank AG this week raised its target price for the stock to 800 pence, indicating 12% upside from Wednesday's close.
KAZ's board has recommended the offer from Nova Resources, saying the terms are fair given increasing risks to its Baimskaya project. At the time of the bid, KAZ warned of increased costs at the Russian asset, saying they made it better suited to be developed by a private company.
The timeline for the deal has been pushed back, with Nova Resources saying last month it expected to send the offer documents to shareholders by Feb. 4. A representative for KAZ said Wednesday its independent board committee, as in all takeover offers, will continue to keep its recommendation under review.
"The process has already been ongoing for more than three months, to the benefit of none other than the offeror," RWC wrote in the letter. "We would therefore call upon the board of directors to accelerate or terminate the existing take-over process."
Read more:
KAZ Minerals Suitor Gains Flexibility on Bid Acceptance Levels
KAZ's Top Investor Offers $2.4 Billion for Copper Miner