Kavanaugh Battle Squeezes GOP Between Base and Female Voters
(Bloomberg) -- The growing furor over Brett Kavanaugh's Supreme Court nomination has Republicans trapped between their conservative base and the female voters who'll be pivotal to deciding control of Congress in November.
President Donald Trump and his conservative allies are rallying behind Kavanaugh, calling allegations of sexual misconduct brought by two women a Democratic smear campaign intent on blocking his confirmation to the high court. But they're doing so amid a widening gender gap that has women increasingly breaking toward Democrats six weeks before the midterm elections.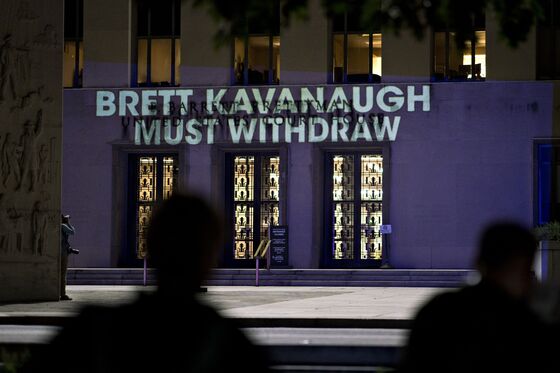 "The Republicans are in a pickle because the base — Christian right and Federalist Society types — are demanding this seat, but the party is losing support with the critical suburban females who want to hear Dr. Ford out," said Dan Eberhart, a major Republican donor and chief executive officer of the oil drilling-services company Canary, LLC. He was referring to Christine Blasey Ford, a California college professor, who alleges Kavanaugh sexually assaulted her when they both were in high school.
Kavanaugh has vehemently denied the accusation.
"He'll answer whatever questions the committee decides to ask him," Kavanaugh's attorney, Beth Wilkinson, said during an interview Wednesday with CBS News. She said she has yet to receive copies of Ford's polygraph test and therapist notes detailing the accusation.
Ford's attorneys did submit four sworn affidavits to the Senate Judiciary Committee on Tuesday night from Ford's husband and three friends who say she had told them previously about the attack. Ford identified Kavanaugh by name to her husband and one other person; to the others, she said the attack was by a man who was now a federal judge, according to the statements.
The battle is playing out in races across the country.
In Wisconsin, Republican Senate candidate Leah Vukmir, who's trying to unseat incumbent Democrat Tammy Baldwin, dismissed the allegations against Kavanaugh as "politically motivated character assassination" and called for a vote this week.
Baldwin, who's said she'll vote against Kavanaugh's nomination, said in an interview this week that "due diligence" requires reopening the FBI background check investigation into Kavanaugh. "I would call on the president and the White House to do that."
Vukmir's strategy of standing with Kavanaugh mirrors that of other Republicans, including Nevada Senator Dean Heller, who are relying on heavy conservative turnout to power them to victory on November 6.
In two key Senate races, Democrats running in states Trump won in 2016 are being pushed ahead with backing from women.
Florida Senator Bill Nelson opened up a 53 percent to 46 percent lead over Republican Rick Scott, the state's governor, in a Quinnipiac University poll conducted after the accusations against Kavanaugh were made public. They were dead even in a Quinnipiac poll conducted earlier in the month and in other recent polls. Women back Nelson 58 percent to 41 percent -- a 5 percentage point increase from the earlier poll -- while men are more evenly split.
In Arizona, where Democrats are trying to flip a seat now held by the GOP, Democratic candidate Kyrsten Sinema leads Republican Martha McSally among likely voters 48 percent to 45 percent in an NBC News/Marist College poll. Sinema leads among women 53 percent to 38 percent.
The risk for Republicans and the potential advantage for Democrats isn't uniform. Some Democrats running in states the president won by a wide margin, and where they'll need Republican votes to get re-elected, are moving cautiously on the nomination.
"I'm approaching this with an open mind and think he should have an opportunity to clear his name," West Virginia Democratic Senator Joe Manchin said of Kavanaugh.
Indiana Senator Joe Donnelly, like Manchin, declined to say which way he was leaning on the confirmation vote. "I just want to hear all the facts and hear what everybody has to say," he said.
Another Democrat running in a Trump state, Missouri's Claire McCaskill, said she's not hearing much from constituents about the Kavanaugh nomination.
"People in Missouri are really worried about whether or not they can ever afford to retire, whether or not they can afford to buy their medicine, whether their kids can afford to go to college, that kind of stuff," she said.
Several GOP lawmakers who remain publicly undecided -- most notably Alaska's Lisa Murkowski and Maine's Susan Collins, as well as Arizona's Jeff Flake and Tennessee's Bob Corker, who are both retiring -- said they want to hear what Kavanaugh's accusers have to say before making up their minds.
Credentials and Allegations
"He certainly has the credentials, but we now have a serious allegation made and I look forward to the hearing on Thursday," Collins said.
"It's important to remember that the vote is about Judge Kavanaugh and his qualifications," Murkowski said. "We have kind of moved beyond the qualifications of the nominee and it has become more about whether or not women who have been subject to any form of assault, of violence, intimidation are to be believed. That's a different issue than whether or not Judge Kavanaugh is qualified."
Trump has abandoned the initial strategy of the White House and GOP Senate leaders to tread delicately in addressing the accusations and the woman who made them as a way to avoid angering female voters already motivated by the #MeToo movement highlighting sexual harassment and assault.
Last Friday, he cast doubt on Ford's credibility by questioning why she didn't report the alleged assault decades ago. On Tuesday, he called Deborah Ramirez, who has accused Kavanaugh of sexual misconduct when they were in college, "all messed up" and "totally inebriated" at the time of the alleged incident.
Late Tuesday night he said on Twitter that the "Democrats are playing a high level CON GAME in their vicious effort to destroy a fine person. It is called the politics of destruction."
John Clune, the attorney representing Ramirez, said she's willing to testify but first wants to know what the process is and whether the FBI will investigate her claims. He said she has so far been careful in being specific about which details of the alleged assault she conveys.
"If somebody's going to make something up, they're not going to put gaps in their memory right?" Clune told CBS News. "As a former prosecutor, I can tell you that only helps her credibility because somebody is not going to falsify a report that has that kind of a gap like that."
Trump made pushing the court to the right a central promise of his 2016 campaign and some Republican Party leaders have warned a failure to confirm Kavanaugh would discourage GOP voters. In a sign of the stakes, Trump earlier on Tuesday tweeted a quote from a conservative radio host:
"Rush Limbaugh to Republicans: 'You can kiss the MIDTERMS goodbye if you don't get highly qualified Kavanaugh approved.'"
Some recent polls illustrate the bind for Republicans.
A Fox News poll conducted last week found 50 percent of registered voters oppose his confirmation and 40 percent support it. In an August poll 45 percent supported Kavanaugh and 46 percent were opposed.
A plurality of 36 percent of all voters said they believe Ford, Kavanaugh's accuser, compared with 30 percent who believe the nominee's denials. But that splits along partisan lines, with 59 percent of Democrats saying they believe Ford and 60 of Republicans backing Kavanaugh. Women are more likely to believe Ford by a 10-point margin. Among suburban women, that increased to a 17-point margin.
"It's quite a pickle for the GOP," Eberhart said. "Trump's credibility on ramming through judicial nominations is on the line."