Kanye West's Hydrogen-Powered Air Force One Doesn't Exist Yet
(Bloomberg) -- A White House lunch including President Donald Trump and Kanye West turned, inevitably, to the future of aviation.  By the end of Thursday's meeting, Trump had expressed enthusiasm for the musician and fashion designer's vision of replacing the presidential airplane, a Boeing 747, with a hydrogen-powered aircraft.
The only wrinkle is that no such airplane currently exists.
Liquid hydrogen has been used as a rocket fuel, notably in the United Launch Alliance Delta IV and planned NASA Space Launch System rockets. But it remains years, if not decades, away from serving as a viable fuel for commercial aviation. It makes for a tricky fuel because hydrogen exists typically as a gas; to be a feasible in an engine, it must be cooled to liquid form, at -423 F (-253 C).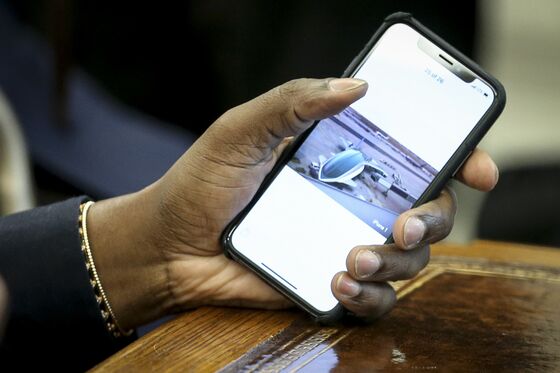 There have been fledgling attempts to use liquid hydrogen as jet fuel. Boeing Co. has researched a surveillance aircraft to fly at high altitudes for several days that would use liquid hydrogen, a project known as Phantom Eye. That aircraft was a drone and the effort ended years ago, Boeing spokesman Todd Blecher said. "In terms of Air Force One, our focus remains providing the two modern 747-8 aircraft on order," he said.
If it could be perfected, there would be advantages to powering aircraft with hydrogen. Combusting the liquid version would create only water, not the carbon emissions that wreck the atmosphere and warm the planet.
But any aircraft using it as a fuel would need to carry lots of it because hydrogen is not as dense with energy as traditional kerosene-based jet fuel. That means about four liters of liquid hydrogen for every liter of current jet fuel—and all that would need to be stored somewhere on the aircraft, according to a decade-old account of the Boeing project in Wired magazine.
In their televised encounter in the Oval Office, West appeared to show Trump a photo of a concept illustration, reportedly from 2012, while suggesting that the plane would use hydrogen as a fuel and be built by Apple Inc.
James Titcomb, a technology editor for The Telegraph newspaper, posted a copy of an illustration by a graphic designer that appeared to be the plane West showed Trump.

West, wearing a red hat bearing Trump's campaign slogan, offered a name for the hydrogen-powered replacement for presidential aircraft: the iPlane One. "If he don't look good, we don't look good. This is our president," West said. "He has to be the freshest, the flyest."
Trump responded: "We'll get rid of Air Force One."