Pious Cat-Lover or Tower Developer: Who Is Poland's Kaczynski?
(Bloomberg) -- Poland's most powerful politician has been plagued by a daily drip of leaks about his hitherto little-known business dealings, undermining his image and complicating his populist party's re-election bid.
The latest scandal, reported by Gazeta Wyborcza daily on Friday, alleges that ruling Law & Justice party Chairman Jaroslaw Kaczynski received a 50,000 zloty ($13,000) off-the-books payment from his partner to facilitate the construction of a skyscraper in Warsaw. The newspaper cited sworn testimony by an Austrian businessman, who sued Kaczynski for not paying fees related to the project. A ruling-party official rejected the article as "fake news."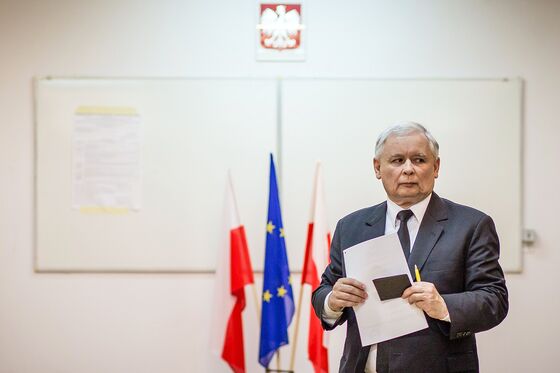 Still, revelations that the architect of Poland's populist, anti-elitist revolution planned to build a luxury high-rise in Warsaw -- a vanity project akin to a Trump Tower -- are upending the ruling party's narrative about their leader's unrivaled modesty and disdain for flair. Whether voters accept this new business-oriented version of Kaczynski could tip the scales in elections due late in 2019.
"This looks quite bad for Kaczynski," said Marcin Zaborowski, a senior associate at think-tank Visegrad Insight. "Unless Kaczynski responds to the allegations and possibly counter-sues the Austrian, his support will fall and he'll become a burden for Law & Justice."
The ruling party has dismissed the latest allegations against Kaczynski as it has done in previous cases, calling them a politically motivated smear campaign.
"This event never happened," Law & Justice spokeswoman Beata Mazurek said, calling the Gazeta Wyborcza article "laughable and pathetic."
Kaczynski, 69, holds no office beyond his role as lawmaker, but he wields the power behind the government after leading Law & Justice to an unprecedented parliamentary majority in 2015. A lifelong bachelor and professed cat lover, he lived with his mother in a gray, inconspicuous house in a leafy Warsaw neighborhood until she died in 2013.
In his latest disclosure of assets, which is mandatory for lawmakers and public officials, Kaczynski said he had 19,000 zloty in savings and 127,000 zloty in debt.
The party leader's drumbeat of mistrust for both Russia and western Europe, the us-versus-them attacks on Poland's elite and his courting of the Catholic church have made him an almost cult-like figure for followers.
Over three-and-a-half years, his party has amassed more power than any of its post-communist predecessors, while overhauling the justice system in what the European Union has criticized as posing serious risks to the country's ability to uphold the rule of law.
The government said the changes were needed to make Polish courts more efficient and oust corrupt judges. Despite record handouts and a tightly controlled public media, the party's popularity has started to decline.
Gazeta Wyborcza's articles from past weeks, including secret recordings and documents from the Austrian businessman, Gerald Birgfellner, have focused public attention on Kaczynski's business dealings and its intersection with the government. A day after Birgfellner testified in the prosecutors' office, Kaczynski met with Justice Minister and Chief Prosecutor Zbigniew Ziobro, although the latter said the case wasn't discussed.
The latest report, citing testimony from Birgfellner, said that Kaczynski asked for a 100,000 zloty payment for a priest who sat on the board of a foundation that runs a company on whose property the tower was to be built.
The developer didn't have that amount, and agreed to give half of it at the time and half later, once the project received a bank loan. Birgfellner told prosecutors he remembered Kaczynski holding the envelope with the cash, Wyborcza said. The prosecutor's office wasn't immediately available for comment on the Austrian's reported testimony, while Kaczynski hasn't held a news conference since the story broke late last month.
"This is another act of a scandal that doesn't exist, more fake news," Jacek Sasin, an aide to Poland's premier and senior Law & Justice lawmaker, told public Radio 1. "It's not worth commenting on this. Jaroslaw Kaczynski is someone whose integrity can't be questioned."
Transcripts of conversations secretly taped by Birgfellner, and published by Wyborcza, showed that Kaczynski was concerned of the potential damage that news of the skyscraper project could create.
If the party is perceived by the public as seeking to build a tower, or "even a statement that I am building it, it must therefore mean I am an extremely wealthy man," Kaczynski told Birgfellner, according to the transcript. "We can not afford for this to happen."