Kabila May Seek Future Presidency After 18-Year Congo Rule
(Bloomberg) -- Outgoing Democratic Republic of Congo President Joseph Kabila signaled he'll remain active in politics and would consider running for office when he's eligible again in 2023.
The 47-year-old leader is preparing to step down after ruling the cobalt- and copper-rich central African nation for almost 18 years. He's chosen Emmanuel Ramazani Shadary to succeed him in a Dec. 23 vote that may mark the first democratic transfer of power in Congo since it gained independence from Belgium in 1960.
Kabila's anointment of Shadary, a loyal former interior minister who lacks a nationwide support base, prompted speculation he'll attempt to rule Congo from behind the scenes. The selection has drawn comparisons with Russian President Vladimir Putin's promotion of Prime Minister Dmitry Medvedev as his protege in 2007.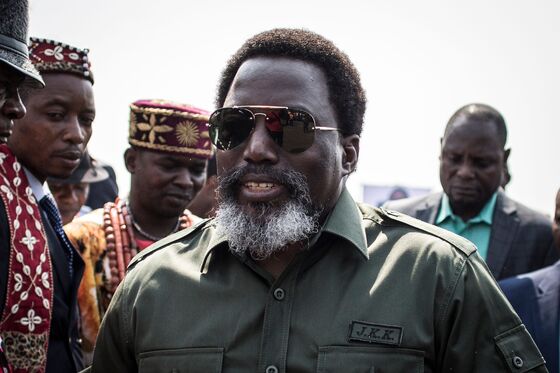 "My intention is to be available to my country whenever my country will need me," Kabila said in an interview Monday at his ranch outside the capital, Kinshasa. "Building this country is a work in progress and 80 million Congolese have to do that work. I believe I am one of those who will also have to do that work of reconstructing this country."
The European Union on Monday extended sanctions against 14 Congolese officials, including Shadary, for alleged human rights violations and obstructing the electoral process.
Congo's constitution prohibits Kabila from running for a third successive term, but leaves open the possibility of running again in polls set for 2023. Supportive officials have said the president may take the lead at important organizations, such as the political party he founded, which is the largest in parliament, and the ruling coalition for which Shadary is standing.
"The law does not bar me from doing that but my intention is to lead a very calm life in this beautiful country of ours," Kabila said.
During his years in power, the economy has quintupled in size as mining output has surged, though critics say little has been done to reduce poverty or spur development in one of the world's poorest nations.
Sources: World Bank, United Nations, Transparency International
The end of his tenure has been marked by increasingly fractious relations with multinational mining companies including Glencore Plc and Randgold Resources Ltd., as the state has passed legislation and renegotiated joint ventures to boost revenue from its natural resources. Following are some of the other comments he made during the interview:
"After having studied the situation, we came to the conclusion that we weren't getting the necessary resources as expected and that there were quite a number of loopholes as far as collection of tax and revenues was concerned," Kabila said. "We wanted to close those loopholes."
On the potential benefits of the new code:

"We expect our revenue to be multiplied by two, three, even four," Kabila said. "This is in the next coming months because the reform has just kicked in three or four months ago."
On mining companies' demands the code be modified:

"Since it is now a law, the only way you can change it is by going back to parliament. There is no other way. No amount of pressure or arm-twisting is going to make that happen unless parliament is convinced again and I don't see that happening soon."
On complaints about the cancellation of a stability clause:

"It was out of the question to give another ten years with the same system, with the same revenues," Kabila said. "We thought that it was ample time for us to ask for much more than the peanuts that these mining companies were paying."
On the threat by mining companies of international arbitration:

"If they want to go for arbitration, as far as our agreements are concerned, they have the right to do that. But what I sense is that the mining companies are not unanimous. There's no consensus on this issue. There are those who are very aware of the situation and very understanding that the state, this time around, is right."
On Israeli businessman Dan Gertler:

"I've known Mr. Gertler over the last 21 years," Kabila said. "We don't have any court cases against Mr. Gertler in this country and I don't know of any company which has brought a court case against Mr. Gertler here in Congo."
"I don't intend to discuss my friendship with Mr. Gertler or with anybody else.
On the renewal of EU sanctions:

"It's a decision from neo-colonialists," Kabila said. "We'll reject decisions we believe are politically oriented, especially from those who don't have any lessons to give to us."
"What was reported was baseless."