K+S Nears $3 Billion Sale of Morton Salt Unit to Kissner
(Bloomberg) -- K+S AG agreed to sell its Morton Salt unit to Kissner Group for $3.2 billion, a move that would provide the German potash miner with much-needed funds to pay down debt.
The company's Americas salt division -- famous for the "Umbrella Girl" logo -- expects the deal to close in summer 2021, K+S said Monday in a statement confirming a Bloomberg report. K+S shares jumped almost 20%, the steepest intraday rise for more than six months, after the company earlier said it was in advanced talks about the divestiture.
Kissner, a producer and supplier of salt controlled by holding company Stone Canyon Industries Holdings, beat out other suitors including buyout firm Cerberus Capital Management, according to people familiar with the matter, who asked not to be identified because the information is private.
K+S Chief Executive Officer Burkhard Lohr is divesting assets after the company's bet on a Canadian potash project backfired during a global slump in prices for the crop nutrient. This has weighed on earnings and sent the company's credit rating into junk territory.
"With the sale of our Americas salt business, we are taking a giant step in reducing debt," Lohr said in Monday's statement.
Shares of K+S had fallen 45% in Frankfurt trading this year through Friday, shrinking its market value to 1.2 billion euros ($1.4 billion). Baader Bank analyst Markus Mayer said before K+S's statement that selling the Americas salt business for $3 billion would be higher than expected and a trigger for the stock to re-rate.
The company acquired Morton Salt in 2009 for about $1.7 billion. The $3.2 billion price tag includes debt.
The stock close up 14% at 6.98 euros in Frankfurt.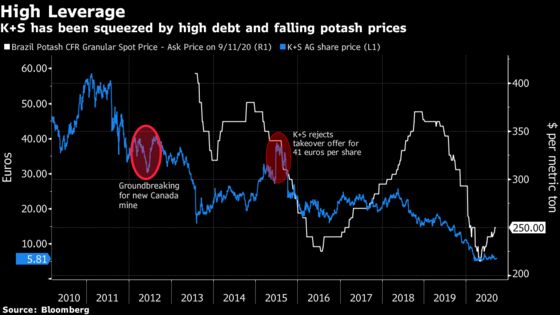 Morton Salt was initially expected to fetch just over $2 billion, the people said. But Kissner was able to far outbid suitors including Cerberus, Advent International and Koch Industries Inc., the people said. Cerberus had no immediate comment.
Bringing two major U.S. producers together will yield major benefits and savings in areas such as machinery expenses as well as manufacturing and distribution given Kissner's network of depots across North America.
Typically a resilient business, even the salt market has seen some impact from lockdowns during the Covid-19 pandemic as orders from industry and commercial food producers were affected. Competitors include American Rock Salt and Compass Minerals International Inc., which has been raising the efficiency of its salt operation.
To address concerns about a drawn-out antitrust review and deal completion, Kissner and K+S have discussed financing structures that would give the German company access to funds ahead of debt maturities in May, the people said.
K+S said in March it aims to cut its net debt by more than 2 billion euros by divesting the salt unit and trimming corporate functions. An earlier plan proposing the sale of just a minority stake in the business failed, meaning K+S is being forced to give up a stable earnings contributor.
K+S was advised by Deutsche Bank AG and RBC Capital Markets while Kissner's owner Stone Canyon worked with Morgan Stanley.