Just as Oil Prices Recover, Hedge Funds Lose Faith in Rally
(Bloomberg) -- Hedge funds picked a bad week to lose faith in oil's recovery.
Money managers' net-long bets on rising Brent crude prices fell for the first time in a month, according to data released Friday, leaving investors wrong-footed as the global benchmark enjoyed its biggest weekly rally in two years. Wagers on a Brent sell-off also jumped, leaving overall sentiment near its most bearish level since 2015.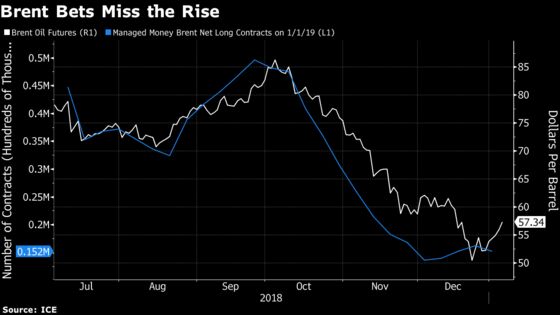 Brent gained 9.3 percent last week as Saudi Arabia moved to trim its output and a healthy U.S. jobs report eased some fears about the economy. But investors are still far from convinced that the market has solved the supply glut that sent prices sliding in 2018.
"People are extremely cautious," said Irene Haas, managing director at Imperial Capital Group in Houston. "This sector has been very treacherous the last few years. Just as you think things are going well, something goes wrong."
Brent for March settlement rose 2.2 percent to $58.28 a barrel as of 10:05 a.m. in New York on Monday, on track for its sixth straight daily advance. West Texas Intermediate crude, the U.S. benchmark, climbed 2.3 percent to $49.08.
Net-long positions in Brent -- the difference between bets on a price increase and wagers on a drop -- fell by 6.1 percent in the week ended Jan. 1, according to data from ICE Futures Europe exchange. That ended a three-week run of more optimistic bets that followed the early December pledge by OPEC, Russia and other exporters to cut output.
Long-only positions fell 2.6 percent to 254,893 futures and options contracts. Short bets, predicting a decline, climbed 3.1 percent to 102,568.
The hefty bearish position could prime the market for a quick recovery -- if investors decide oil has turned a corner.
"Between the OPEC cuts and weak Venezuelan production and Libyan problems, all of that is helping to put a floor on prices," said Michael Lynch, president of Strategic Energy & Economic Research in Winchester, Massachusetts. "We had such a sharp drop -- that alone implies that we might have gotten oversold."
U.S. crude prices have also recovered a bit from their end-of-year swoon, recording the largest weekly climb since the end of June. The U.S. Commodity Futures Trading Commission's weekly report on West Texas Intermediate wagers has been halted by the partial government shutdown.