Oil Cuts Could Make Rail Cars Worth Less Just as Alberta Buys Them
(Bloomberg) -- Canada's announcement to enforce mandatory production cuts starting next month will make moving crude on trains less attractive just as the government buys railcars.
The two steps of the plan, part of Alberta's goal to ease historically low prices, appear at odds with each other. On one hand, buying rail cars should ease selling pressure because of new infrastructure taking oil to market. However, mandatory cuts would boost prices to near the level where crude-by-rail becomes uneconomical.
Western Canadian Select for January traded as much as $19.75 a barrel below U.S. crude futures early Monday, a $9.25 leap from Friday, before slipping back to a $23 discount.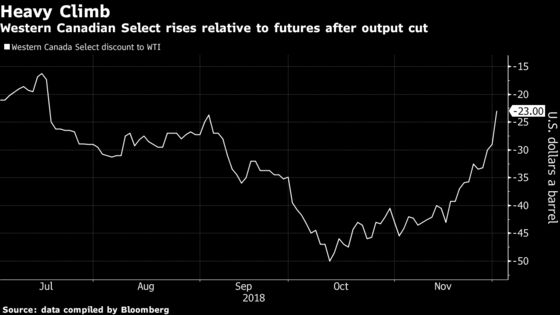 The key may be timing. Alberta asked in recent months for the federal government to buy as many as 7,000 rail cars to boost shipping capacity by 120,000 barrels a day to stop record low prices and a supply glut. Those railcars won't come into effect at least until mid-2019. Meanwhile, the production cuts are effective starting next month. Prices could get back to the level where it pays to move the marginal barrel on rail, according to analysts.
"We expect that with the forcibly shut-in production, that differentials will narrow back towards rail-based economics," Canaccord Genuity said in a note Monday, which is about $20 to $25 a barrel below West Texas Intermediate futures.
"We continue to believe that relief from additional pipeline capacity is the most viable (and sustaining) method of getting Albertan (Canadian) production to market, but that this will help in the near term," it added, citing the rail deal.