Junk Energy Bonds Surge by Most in Two Years on OPEC Optimism
(Bloomberg) -- A surge in oil prices ahead of this week's OPEC meeting fueled the best day for energy junk bonds since 2016.
The Bloomberg Barclays High Yield Energy Total Return Index gained 0.8 percent Monday as West Texas Intermediate crude jumped 4 percent, its best day since June. The bond rally was the biggest advance for high-yield energy debt since Nov. 30, 2016 -- the day the oil cartel agreed on its first supply reduction in eight years.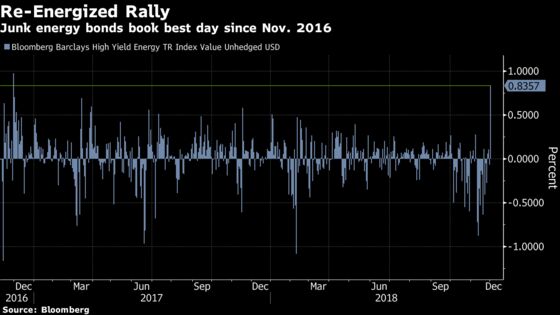 Debt rated CCC -- the least credit worthy on the high-yield spectrum -- also posted the biggest advance in more than two years Monday. The low-grade bucket has more energy producers than other levels of junk bonds.
Saudi Energy Minister Khalid Al-Falih said the Organization of Petroleum Exporting Countries and major producers were likely to curb output at this week's meeting in Vienna, while cautioning that it was "premature" to talk about the outcome. Oil prices fell the most in a decade last month on concern a glut is forming.