Junk Debt ETFs Add Cash as Panic Fades After High-Yield Rout
(Bloomberg) -- Junk bond buyers are returning to the market for exchange-traded funds.
Cash has flowed into ETFs tracking high-yield debt this week, as stronger equity markets, rising oil prices and tighter credit spreads encourage investors to take more risk after last year's rout. BlackRock Inc.'s iShares iBoxx High Yield Corporate Bond ETF took in $472 million on Monday, while a short-dated junk bond ETF run by State Street Corp. added $222 million, a record for the fund.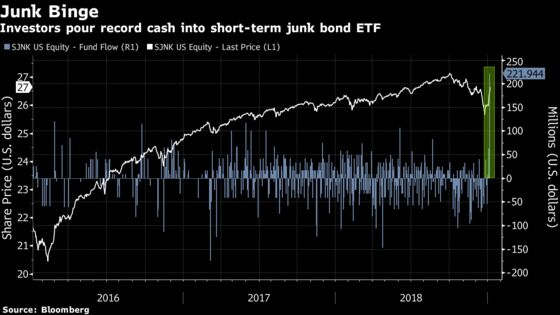 The inflows mark a U-turn in sentiment after everything from trade tensions and slower economic growth to rising rates sent a Bloomberg Barclays measure of high-yield debt tumbling to its lowest since May 2017 late last year. That gauge has now climbed for seven consecutive trading days, and flows into junk-bond funds suggest the rout is over for now, according to Jay Pestrichelli, co-founder and managing director of ZEGA Financial.
"The last two or three days have been very strong for the high-yield space," Pestrichelli, whose firm oversees about $400 million and uses junk bond ETFs for hedging, said Monday. "It's not at all a clear signal by any means, but it certainly is -- I think -- a reduction in panic."
Investors yanked more than $600 million from BlackRock's ETF, known as HYG, last Thursday, the most since Dec. 20, data compiled by Bloomberg show. Shares of the fund, which manages $13.4 billion, have surged more than 3 percent since then, the largest three-day gain for the fund since June 2016.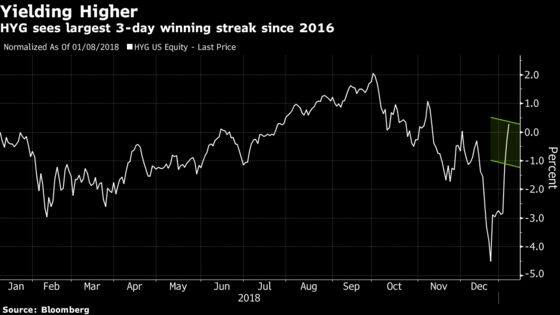 State Street's fund -- the $2.8 billion SPDR Bloomberg Barclays Short Term High Yield Bond ETF, known as SJNK -- is meanwhile trading near the highest in a month. One investor bought 1.9 million of SJNK shares worth more than $50 million at 10:32 a.m. in New York on Monday.
SJNK buys bonds that mature in less than five years -- debt which currently yields almost as much as riskier, longer-duration products. Cautious buyers also scooped up $430 million of the iShares iBoxx $ Investment Grade Corporate Bond ETF, or LQD, on Monday, the most since June.
"Investors are going to be a little more apprehensive" given recent volatility, said Mohit Bajaj, director of exchange-traded funds at WallachBeth Capital. "All of these funds have moved significantly in the past few weeks."