Junk Bonds Shrug Off Oil's Plunge as It Hasn't Gone Far Enough
(Bloomberg) -- Oil may have lost its grip on U.S. junk bonds.
As crude fell for eight straight days through Nov. 7, the longest streak since 2014, high-yield bonds -- typically influenced by the price of oil -- actually gained. And further, junk debt has barely suffered a scratch as West Texas Intermediate has fallen 20 percent from a four-year high at the start of last month.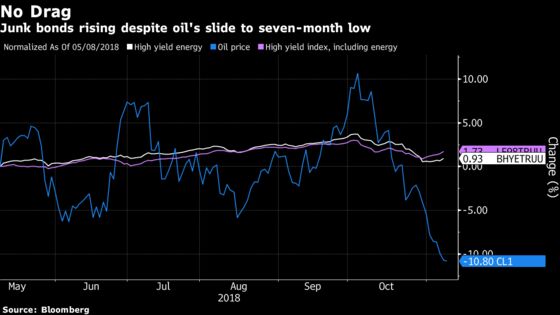 During oil's plunge, high yield debt dropped around 1.2 percent, while junk tied to energy lost about 2.7 percent, data compiled by Bloomberg show. A similar reaction happened during crude slumps earlier this year, even though energy accounts for about 15 percent of the U.S. high yield index.
The muted reaction may be because junk didn't rise as much as oil this year, and producers survived recent lean years, when crude traded as low as $26 a barrel. However, the bonds may eventually respond.
"It may not be falling as oil goes from $75 to $60 because it didn't really rally very much as oil went from $60 to $75," said Spencer Cutter, Bloomberg Intelligence U.S. credit analyst. "If we start to flirt with $55, I think there is a good chance that you will see a real reaction in the bond market."