Julius Baer CEO Hodler Struggles With Missed Target, Markets
(Bloomberg) -- Almost a year into the job, Julius Baer Group Ltd. Chief Executive Officer Bernhard Hodler is finding it tricky to fill the shoes of predecessor Boris Collardi -- and the markets aren't helping.
The Swiss wealth manager dropped the most in a year in Zurich trading after the company missed a key productivity target and assets under management fell. That shifted the company into cost cutting mode, dealing a blow to Hodler's expansion plans.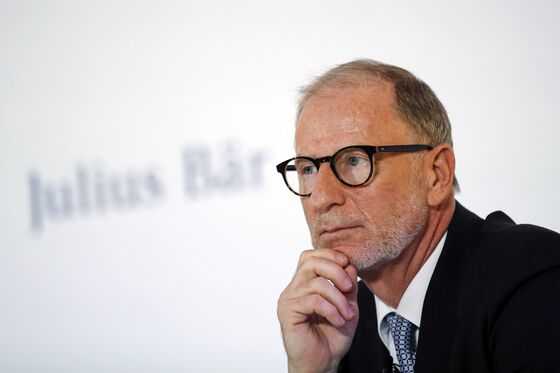 The former risk manager took over after the surprise departure of the high-profile Collardi, aiming to continue his predecessor's plans of boosting growth through increasing relationship managers, opening new offices and striking strategic partnerships. However he's confronted a tough year for money managers and the need to focus on client vetting after a flurry of legal scandals and the arrest of a former manager.
Assets at the Zurich-based bank slipped to 395 billion francs ($398 billion) from 400 billion francs at the end of June. Gross margins, a key measure of financial strength, narrowed and Hodler said the bank has started to trim expenses to offset "market-driven revenue fluctuations."
"Investor sentiment going into these results has been very negative," Citigroup analysts led by Nicholas Herman wrote in a note to clients. "These results, however, are weaker than what we had expected and we would not rule out further share price pressure."
Vontobel analyst Andreas Venditti also called the figures below expectations and put his price target under negative review.
Julius Baer fell as much as 8.1 percent, the most in more than two years, and was down 6.8 percent at 40.59 euros as of 2:22 p.m. The stock fell about 30 percent this year.
HSBC downgraded Julius Baer after the earnings to hold from buy.
Wealth managers globally are contending with declining stock markets and increasing trade tensions that have prompted clients to reduce risk. Those headwinds as well as uncertainty about reaching key targets may check Hodler's expansion plans while accelerating cutbacks in non-essential markets such as Panama and Peru.
Hodler continued the growth path of his predecessor and he's already exceeded a hiring target of 80 relationship managers for this year and expanded recently in regional U.K. and German cities, seeking to tap unexploited pockets of wealth.
Deleveraging by Asian clients contributed to an increase in risk-weighted assets for credit and market risks. As a consequence the bank's key capital ratio fell to 13 percent compared to 13.5 percent at the end of 2017.
Julius Baer's smaller rival EFG International AG said last week that net new money growth for the first nine months came in at the lower end of its target. New money at Julius Baer was within its target range of 4 percent to 6 percent.
Trading update highlights:

Net new money increased at 5% rate
Capital ratio declined to 13% from 13.5% end 2017
Cost to income ratio at 69% exceeded 64%-68% range
Says aim to reach cost-to-income ratio in 2019