Cineworld Plunges, Cineplex Soars on $1 Billion Court Ruling Over Deal
(Bloomberg) -- Cineworld Group Plc plunged as much as 40% after a court ordered the world's second-largest cinema chain to pay nearly $1 billion in damages -- more than its entire market value -- over an aborted takeover bid. 
A Canadian court ordered the British company to pay the money on Tuesday after it scrapped a plan to buy Toronto-based Cineplex Inc. as the pandemic forced entertainment venues to close. The $1.6 billion deal would have made Cineworld North America's largest movie-theater operator.
Cineworld's market value has shrunk by about 90% in the past two years, and now stands at about 400 million pounds ($529 million) after an acquisition spree and Covid-mandated theater closures swelled its debt burden to about $5 billion. 
The company will appeal the decision and does not expect to have to pay damages during this process, which a spokesman said could take up to a year. Investors will be focused on whether the appeal is successful, and if in the meantime the company can balance uncertain box office income with the need to finance its debt load.
"Make no two ways about it, this is dire news for Cineworld," said Berenberg analyst Owen Shirley in a note to clients. "This has the scope to wipe out all the remaining equity in the business."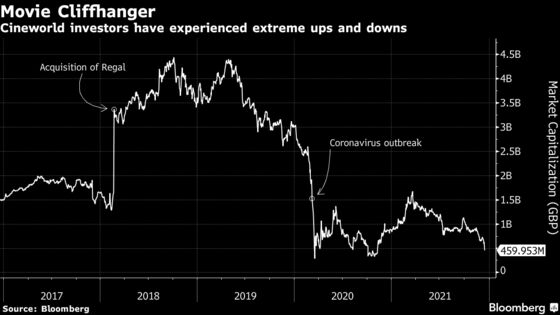 The company has been among the most preferred targets for bearish investors in the U.K. with a short interest of about 15%. Wednesday's drop could have led to a paper profit of about 37 million pounds for short sellers.
New Holland Capital, Whitebox Advisors and K2 & Associates Investment Management were among seven investment firms with disclosed short bets against the company, according to data compiled by the Financial Conduct Authority.
Cineworld had $650 million of liquidity at the end of the first financial half of the year, said Jefferies analyst James Wheatcroft. The company is rated CCC by S&P Global Ratings.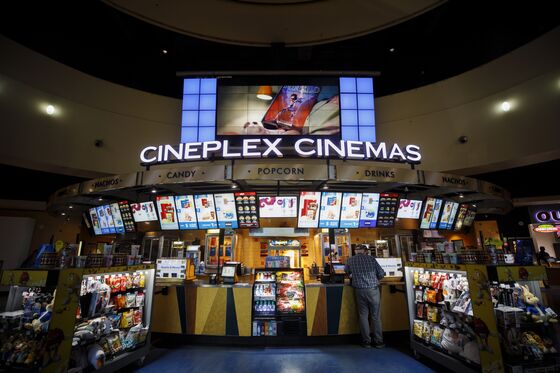 As for Cineplex, Canadian theaters have reopened and the country has vaccinated about 80% of the eligible population, but it's still struggling to attract moviegoers to its 161 locations. It reported 8.3 million theater customers in the third quarter, fewer than half the number it saw in the same period of 2019. 
Cineplex shares soared 13% on the news to C$13.31 as of 9:52 a.m. Wednesday in Toronto. They're still about 60% below the C$34 a share that Cineworld offered in the now-broken deal. 
The court award "represents approximately C$19.60 per CGX share which has traded in recent months between $12 and $16," National Bank Financial analyst Adam Shine said in a note. "An appeals process could take 18-24 months which might drag things toward the second half of 2023. One would assume that CINE, if it lost again on appeal, could try to go to the Supreme Court, but it's not clear that the latter would hear this case."
"We are pleased that the court found Cineplex acted properly throughout this difficult period in our history," Chief Executive Officer Ellis Jacob said in a statement. The court also denied Cineworld's counterclaim, Cineplex said.