JPMorgan Veterans' Hedge Fund Eyes First Target in Mexican Peso
(Bloomberg) -- After 17 years trading Latin American markets at JPMorgan Chase & Co., Giovani Silva is starting his own hedge fund -- and eyeing a bet against the Mexican peso as one of his first moves.
BlueLine Asset Management, which plans to debut its first fund by the end of May, will have a team of 20 people based in Sao Paulo to place wagers on Latin America's biggest economies. For some of his first trades, Silva is looking at disappointing growth in Mexico and planning to short the peso and receive rates; he's also studying Brazilian stocks to identify those most likely to benefit from the government's efforts to shore up its fiscal accounts.
"Our goal is to operate in all Latin American markets without losing focus on Brazil," Silva said in an interview at BlueLine's office in the Faria Lima neighborhood, where he counts the local unit of Pacific Investment Management Co. as a next-door neighbor.
BlueLine is part of a crop of new Brazilian hedge funds started by money managers who left big banks to open up their own shops, seeking to serve the retail investors in search of better returns. Multi-market funds, as they're known in Brazil, are on track for a fourth straight year of inflows, boosted by new entrants including Legacy Capital, with a team of former executives from Banco Santander Brasil SA, and Vinland Capital, founded by former partners from Banco BTG Pactual SA and Goldman Sachs Group Inc.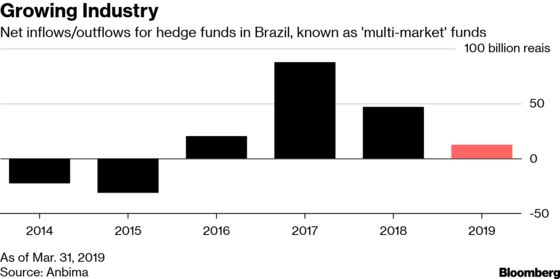 Silva, JPMorgan's former head of markets for Latin America, said that Blueline has the structure in place to manage as much as 3.5 billion reais ($900 million) of assets, though he declined to estimate how much the fund would have initially. Legacy, which debuted last year, has 3 billion reais under management while Vinland has about 1.1 billion reais.
Fabio Akira Hashizume, another JPMorgan veteran, will head BlueLine's research department. Other partners include Luciano Brandao, the former head of Santander's stocks desk who will handle the equities book, and Alysson Lima, a former Santander trader who will be responsible for foreign exchange. Guilherme Jardim, who worked at Brazil's Banco Bocom BBM SA, will be the firm's chief operating officer. Silva plans to hire another partner to oversee the rates desk, while he will handle a book for cross-asset investments.
Read More: March Brings Reality Check on Brazil Reform: Hedge Fund Roundup
As Silva scours Latin America for investment opportunities, Mexico looks ripe for wagers given slower-than-forecast economic growth, deteriorating finances for the state-owned oil company that led to a recent downgrade and a lack of clarity about the outlook for the United States-Mexico-Canada Agreement that's set to replace Nafta. He plans to make trades that would profit from declining interest rates and a weakening of the peso against the dollar.
In Brazil, Silva's priority has been gauging how much political support President Jair Bolsonaro can gather for an ambitious economic agenda, starting with an overhaul of the nation's pension system. He argues Brazil could be on the verge of a prosperous new era with the reforms, but that uncertain timing brings with it volatility. He expects the pension bill to be approved in the second half of this year, but doesn't rule out a delay until 2020.
Silva expects Brazilian equities to benefit from greater confidence in Brazil's economy, "though you can't go all-in right now," he said, citing the uncertain timing of reforms. Silva sees some room for currency appreciation in Brazil and is holding back on betting on a decline in interest rates, as he sees economic activity picking up.
The money manager is also keeping an eye on Argentina, expecting that investment opportunities will arise once concern fades that Cristina Fernandez de Kirchner might win back the presidency in October's elections.
"The end of that story could be positive, but it's not the time yet to make that bet," he said.