JPMorgan Returns as World's Most Systemically Important Bank
(Bloomberg) -- JPMorgan Chase & Co. once again stands alone as the world's most systemically important bank after global financial regulators recommended a higher capital burden for the firm.
The U.S. lender rose one rung on the Financial Stability Board's annual rankings Tuesday, the FSB said in a statement. The ranking, which is based on data from the end of 2020, largely reflects the effects of changes in underlying activity of banks.
Goldman Sachs Group Inc. and BNP Paribas SA also increased one level in this year's assessment, which lists 30 firms deemed global systemically important banks. The lenders included remain the same as the 2020 list.
For the U.S. firms, the exercise is somewhat symbolic as they already have higher requirements than those recommended by the FSB.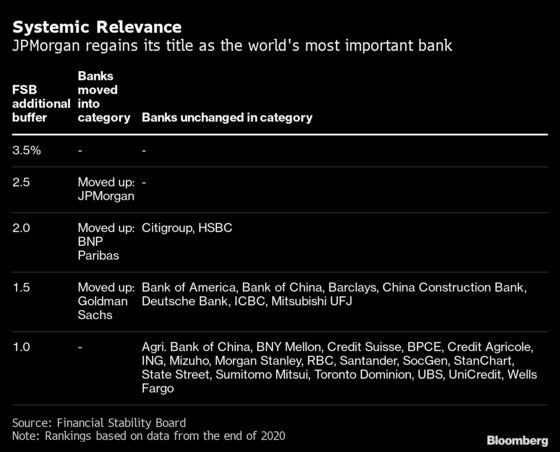 JPMorgan is the sole bank to face a 2.5% additional buffer, whereas last year it sat alongside Citigroup Inc. and HSBC Holdings Plc in a lower bucket. BNP Paribas joined those two other lenders in the 2% category and Goldman Sachs is one of eight firms in the 1.5% bracket. 
Under U.S. rules, JPMorgan already faces a 3.5% buffer and Goldman has a 2.5% requirement to reflect their status as global systemically important banks, according to the firms' annual reports.
For BNP Paribas, the 2% buffer -- which is set to go into effect in 2023 -- would represent an increase on the 1.5% buffer it currently faces. That would increase its overall common equity Tier 1 requirement from 9.23% at the end of Sept. to 9.73%, assuming other pieces remained the same. The firm would still be well clear of that minimum as it had a 13% CET1 ratio at Sept. 30.
The FSB is composed of representatives from authorities including the European Central Bank and Bank of England and is chaired by Randal Quarles of the U.S. Federal Reserve.