JPMorgan Shops Rescue Loan for ATM-Maker Diebold
(Bloomberg) -- One of Diebold Nixdorf Inc.'s largest lenders is shopping rescue financing of at least $500 million to save the cash-strapped ATM maker, according to people with knowledge of the matter.
JPMorgan Chase & Co. has asked distressed-debt funds to sign nondisclosure agreements and consider investing in a new loan, the people said. Some funds are reviewing the terms of the financing, which would have a first claim on the company's assets, the people said. Discussions are at an early stage and financing may not materialize. JPMorgan declined to comment.
Diebold's shares extended losses after Bloomberg's initial report of the possible financing, falling as much as 12 percent for the day. Its 8.5 percent bonds due 2024 fell almost 9 cents on the dollar to 61.75 cents, according to Trace bond price data. The term loan B was last quoted around 84 cents, down from around 89 cents, according to people familiar with the prices.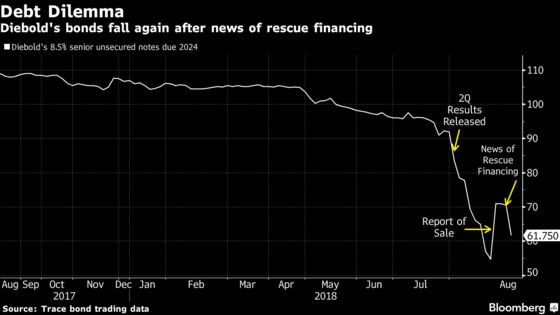 The company may also seek a small loan with a second claim on its assets, according to the people, who asked not to be identified because the details are private. Early discussions for the interest rate on that portion have been around 11 percentage points over Libor, one of the people said.
The proceeds of the new borrowing would be used to pay down portions of two of the company's other loans, in particular the term loan A and a revolving line of credit that JPMorgan also helped lead, according to the people. Those loans had around $425 million and $140 million outstanding as of June 30, respectively, according to a filing.
Diebold's cash holdings have been strained after it posted an unexpected second-quarter loss at the beginning of August. Following those results, the ATM maker has been forced to buy up some of the remaining outstanding shares of a company it took over in 2016. Diebold has already used cash and its revolving credit line to finance $255 million worth of those redemptions. Over time, it might have to buy about another $185 million.
That, on top of management's projection for cash burn of around $100 million for the year, instead of a positive $50 million, has some analysts speculating that Diebold will soon need to access more capital. Its debt covenants could theoretically allow for unlimited borrowing capacity with the cooperation of its term loan A and revolver lenders.
Diebold is working with Evercore as an investment banker to review strategic alternatives, according to other people with knowledge of the matter, who also asked not to be identified. Credit Suisse Group AG was also brought on to help the company sell non-core assets to boost liquidity, the people said. A spokesman for Credit Suisse declined to comment. A spokesman for Evercore didn't immediately comment.
Debtwire reported late Wednesday that JPMorgan was seeking additional financing for Diebold. Representatives for North Canton, Ohio-based Diebold weren't immediately available to comment.