JPMorgan Stock Traders Earn Their Keep as Fixed Income Lags
(Bloomberg) -- Equity traders at JPMorgan Chase & Co., used to being overshadowed by the fixed-income business, just earned some bragging rights of their own: record annual revenue.
Fourth-quarter stock-trading revenue rose 15 percent, pushing the full-year tally to $6.9 billion on strength in the business that serves hedge fund clients. The bright spot came as bond trading plunged 18 percent to the lowest since the depths of the financial crisis as concerns about global growth, trade and rising interest rates took a toll on sentiment.
JPMorgan gained market share in cash equities, equity derivatives and prime finance during the year, despite "pronounced market swings at year-end," Daniel Pinto, co-president and head of the corporate and investment banking business, wrote in a memo to employees Tuesday.
Shares of the company reversed earlier losses, trading 1.4 percent higher at $102.30 at 12:15 p.m. in New York. They've gained 4.7 percent this month after dropping 8.7 percent in 2018.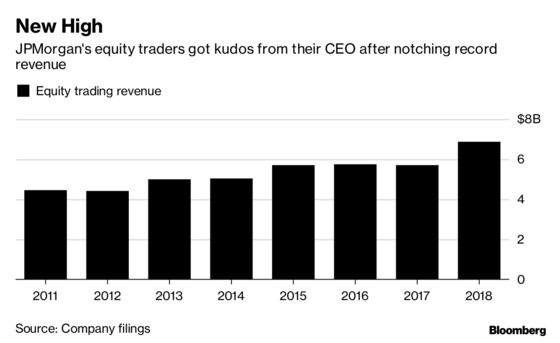 JPMorgan has been investing in electronic technology and sharpening its focus on trade execution, trying to unseat Morgan Stanley as Wall Street's top stock-trading shop.
"Those folks have done a good job," Chief Executive Officer Jamie Dimon said in a shout-out to the bank's stock traders on a call with analysts.
The fourth-quarter record is a pivot from the same period a year earlier, when JPMorgan's equities business took a $143 million mark-to-market loss on a margin loan to embattled Steinhoff International Holdings NV.
JPMorgan is planning to increase annual bonuses at its corporate investment bank, with equities traders and investment bankers reaping the highest awards, a person briefed on the decision said last week.