JPMorgan Debt-Trading Revenue Plunges to Lowest Since Crisis
(Bloomberg) -- JPMorgan Chase & Co.'s bond traders just reported their worst quarter in a decade a day after Citigroup Inc. said it was also pummeled by market turmoil.
Revenue from fixed-income trading, typically the biggest contributor to the company's markets business, plunged 18 percent in the fourth quarter to the lowest since the depths of the financial crisis as wild markets kept clients on the sidelines. The drop more than outweighed an increase in equity-trading revenue and advisory fees, making for the corporate and investment bank's worst quarter in three years.
"Challenging market conditions" weighed on credit trading, rates and commodities, the bank said Tuesday in a statement.
But Chief Executive Officer Jamie Dimon said the results weren't a cause for concern: "I honestly couldn't care less" about the "speed bump" in trading in December, Dimon said on a conference call with analysts. "We're not immune from the weather and volumes and volatility and market prices and assets going up or down."
The fourth-quarter slump marked a sour end to what was still the most profitable year in banking history, boosted by the Trump administration's tax cuts and rising interest rates. While JPMorgan's quarterly profit was just shy of analysts' estimates, annual earnings jumped 33 percent to $32.5 billion, almost $8 billion above the previous record.
The bleak bond-trading results followed a similar drop Citigroup Inc. reported on Monday, shedding further light on Wall Street's struggle to cope with one of the most volatile fourth quarters in recent memory. Citigroup Chief Financial Officer John Gerspach said Monday the trading environment had started to improve this month.
Shares of JPMorgan, up 2 percent this month, dropped 1.3 percent to $99.60 at 10:33 a.m. in New York.
The results were "very un-JPMorgan-like," Steven Chubak, a bank analyst at Wolfe Research, wrote in a note to clients. "JPMorgan has a strong track record of delivering strong revenue and earnings beats, and these results appear rather unremarkable."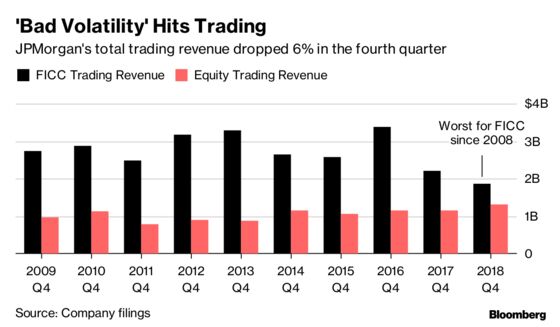 Dimon said in early December that revenue from trading would be roughly flat in the fourth quarter as trade tensions, Chinese selling of U.S. Treasuries and the reversal of central-bank stimulus roiled markets.
But in the ensuing weeks, stock market volatility surged to the highest since 2015, a gauge of U.S. credit risk reached an almost three-year high and U.S. Treasury volatility experienced the biggest one-day spike in 19 months.
Concerns about the turning of the credit cycle and uncertainty related to the Federal Reserve's balance sheet also triggered weakness in credit markets, making it difficult for Wall Street trading desks to parlay the bouts of volatility into higher revenue.
Net interest income -- revenue from customers' loan payments minus what the bank pays depositors -- jumped to a record $14.4 billion in the quarter, aided by four Fed interest-rate increases in 2018.
The core-loan book expanded 6.7 percent in 2018, excluding the investment bank, even as the company faced stiffer competition from non-traditional lenders and as rising interest rates sapped demand for some types of borrowing, including mortgages. That helped the bank meet its growth target of at least 6 percent for the year.
The bank, which plans to host an investor day next month, didn't provide any annual targets for 2019. The company said it expects net interest income to be little changed in the first quarter.
Other Key Results:
Net income jumped 67 percent to $7.1 billion, or $1.98 a share, from $4.23 billion, or $1.07, a year earlier, when the bank took a charge related to the U.S. tax overhaul. Analysts surveyed by Bloomberg had forecast adjusted earnings of $2.21 a share. 
Revenue rose 4 percent to $26.8 billion, just shy of the $26.9 billion average estimate.
Non-interest expense climbed 6 percent to $15.7 billion on investments in technology, marketing, real estate and front-office hires. Analysts expected $15.6 billion.
There are signs the bank is preparing for future losses ahead in parts of its traditional lending businesses, such as credit cards and some commercial loans. JPMorgan set aside more to cover credit loses in the period than analysts expected. Provisions jumped 18 percent to $1.55 billion, above the average estimate of $1.31 billion. That's the highest since the first quarter of 2016.