JPMorgan Blames Argentina's Famous Red Meat for Spike in Inflation
(Bloomberg) -- Argentina's famous grass-fed beef likely emerged as a top inflation driver in February, analysts at JPMorgan Chase & Co. wrote in a note on Wednesday.
The bank raised its consumer price forecast for that month to 3.9 percent from 3.2 percent. "The main culprit," JPMorgan analysts Lucila Barbeito and Diego Pereira wrote "is red meat, with prices that surprised to the upside in the past month."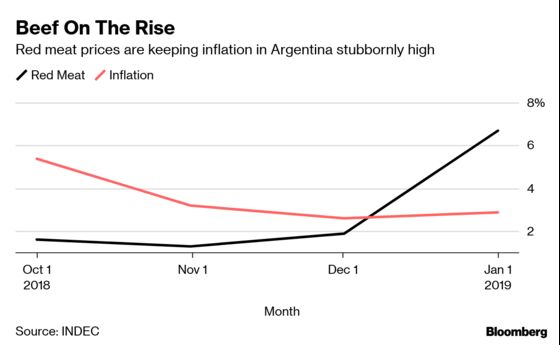 After jumping 6.7 percent in January, red meat prices in Argentina are expected to have risen another 7 percent in February, according to Barbeito and Pereira. Regulated price increases on utility bills and public transport also pushed inflation higher, they wrote.
Beef prices are rising as producers and distributors seek to recoup losses after inflation soared in 2018. Elypsis, a Buenos Aires-based consulting firm, has also warned red meat would send overall inflation in February to as high as 4 percent.
Barbeito and Pereira raised their forecast for Argentine annual inflation in 2019 to 31.2 percent, citing factors including a boost in wages. Argentina's national statistics agency will publish the official February inflation data on March 14.