Ruble Will Outperform Emerging-Market Peers, JPMorgan Says
(Bloomberg) -- Rising oil prices will help the ruble avoid losses that other emerging-market currencies face, according JPMorgan Chase & Co.
JPMorgan strategists including Meera Chandan expect the Russian currency will outperform other emerging-market peers in the region such as the Turkish lira and the South African rand in the coming months. The U.S. bank sees Russia's currency broadly steady through March, while it forecasts losses of 30 percent and 8 percent for the lira and the rand respectively.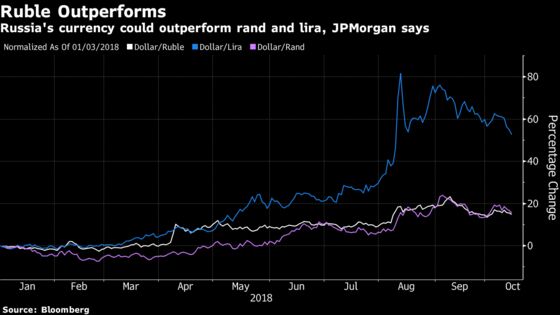 The ruble has rebounded more than 8 percent from a 2 1/2-year low reached last month on the back of a rally in the price of oil, Russia's top export, while the central bank decided in August to suspend its policy of purchasing other currencies. Those two factors will provide support, while a reduction in the number of market participants betting on Russia's currency weakening should also help, the strategists said.
This "should help to reduce pressure on the ruble relating to geopolitical uncertainty," they wrote in a note to clients. "But the related risks still remain considerable and unpredictable, in our view."
JPMorgan has a neutral recommendation on the ruble and suggests clients stay underweight on both the lira and rand, seeing Russia's currency ending March close to Monday's level of 65.55 per dollar. In comparison, it forecasts the lira will weaken to 7.50 per greenback, while the rand will depreciate to 15.50.