Jokowi Plans Record Spending in Indonesia's Election Year
(Bloomberg) -- Indonesian President Joko Widodo plans a record spending next year to support growth as he seeks to shield the $1 trillion economy from an emerging-market rout and brighten his chances of a re-election.
Economic growth is forecast at 5.3 percent in 2019, compared with a revised forecast of 5.2 percent for this year, Widodo, known as Jokowi, said in his budget speech at the parliament in Jakarta on Thursday. The budget deficit is forecast to shrink to 1.84 percent of gross domestic product from a revised estimate of 2.12 percent for this year, he said.
Government spending will increase 10 percent to 2,439.7 trillion rupiah ($167 billion) in 2019, while revenue is estimated to rise 12.6 percent to 2,142.5 trillion rupiah, Jokowi said. The tax-to-GDP ratio is seen climbing to 12.1 percent next year from an estimated 11.6 percent this year, he said.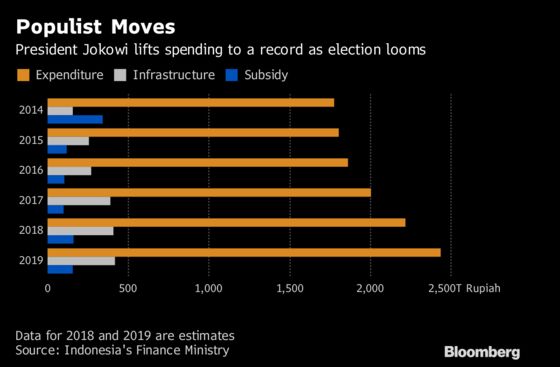 "The state budget is healthy because it is designed in a prudent, realistic and effective manner in order to improve Indonesia's development, while it is also anticipative in facing domestic and global challenges," Jokowi said.
Jokowi's ambitious fiscal targets could boost investors' sentiment amid an emerging-market rout that's hit Indonesia hard this year. The president's political opponents have criticized him for economic mismanagement with growth stuck at about 5 percent and a currency that's lost more than 7 percent this year.
| Key Forecasts for 2019 | |
| --- | --- |
| GDP growth | 5.3% |
| Budget deficit | 1.84% of GDP |
| Expenditure | 2,439.7 trillion rupiah |
| Revenue | 2,142.5 trillion rupiah |
| Inflation | 2.5% to 4.5% |
| Crude Oil | $70 a barrel |
| Rupiah | average 14,400 per dollar |
"The government clearly is prioritizing stability and credibility of fiscal and monetary policy, and a lower fiscal target even in an election year is a proof of that," said Rahul Bajoria, a senior economist at Barclays Plc in Singapore.
About 17 percent of the planned spending next year is for infrastructure. The budget also contains goodies for civil servants with an increase in their salaries and pensions.
The president is pitted against Prabowo Subianto in a rematch of the 2014 elections and the former general has wasted little time in attacking him for failing to meet his 7 percent growth target and defend the rupiah.
The rupiah ended 0.1 percent lower at 14,615 per dollar on Thursday, near its weakest level since 2015, while the benchmark yield on 10-year government bonds fell 3 basis points to 7.98 percent, according to data compiled by Bloomberg. The Jakarta Composite Index of stocks declined 0.6 percent to cap its biggest weekly loss since April.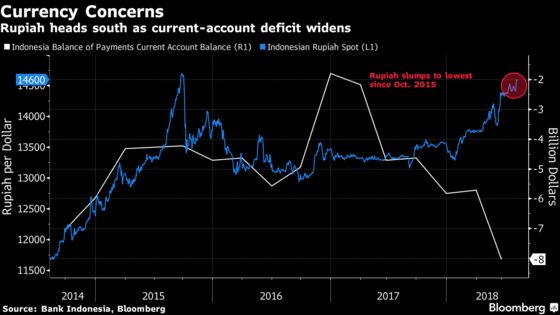 After focusing on more than $300 billion of infrastructure projects to better connect the archipelago in the past four years, Jokowi is now turning his attention to creating more jobs and developing a pool of skilled workers. Earlier on Thursday, the president called for a deepening of reforms for the nation to escape the "middle-income trap."
Finance Minister Sri Mulyani Indrawati expects some pressure on consumer prices next year because of the weaker rupiah and rising crude oil prices. But core inflation will be contained below 3 percent as administered commodity prices including fuel remain frozen, she said.
The government has factored in a stronger dollar and the U.S. trade policy weighing on emerging markets into its forecast for rupiah to average 14,400 next year, Indrawati said. Bank Indonesia, which has been regularly intervening in the forex market to shield the currency, on Thursday vowed to guard the rupiah in line with its fundamentals.
"We will still be in the market, conducting dual intervention, combined with our interest rate policy and gradual depreciation measure," Bank Indonesia Deputy Governor Dody Budi Waluyo told reporters. "We are optimistic that rupiah will be stable at 14,400 level next year as we will still be able to manage and anticipate global and domestic conditions."