Indonesia Budget Walks a Fine Line Between Growth and Restraint
Indonesian President Joko Widodo proposed record government spending next year to drive the economy to its quickest projected growth in seven years, counting on stimulus and investment to overcome risks from a global slowdown and escalating trade war.
Southeast Asia's largest economy is forecast to grow 5.3% next year, the fastest pace since 2013, the president said in his annual budget speech Friday. That would be driven by household consumption, investment and all-time high government spending of 2,528.8 trillion rupiah ($178 billion).
At the same time, Jokowi -- as Widodo is known -- projected a smaller fiscal deficit of 1.76% of GDP, aiming to strike a delicate balance between stimulating the economy and keeping the deficit trim enough to attract foreign investment.
"The government believes investment will continue to flow into the country because of the positive perception about Indonesia and the improvement in the investment climate," Jokowi said. While other economies are slowing, Indonesia's economy "must be able to grow" and any crisis "must be turned into an opportunity," he said.
The Jakarta Composite Index closed 0.4% higher after the budget presentation, while the rupiah strengthened 0.2 percent to 14,243 a dollar. The yield on the nation's 10-year sovereign bonds dropped six basis points to 7.431%.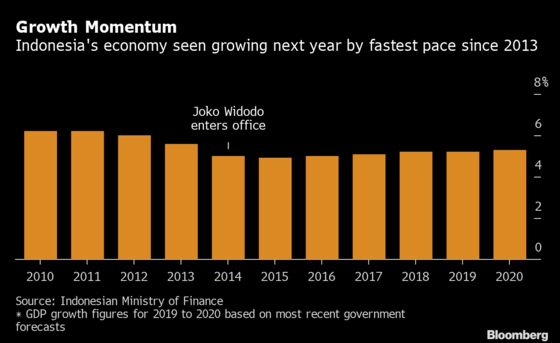 Jokowi, who will be sworn in for a second term in October, wants to ignite an economy that's slowing in the face of waning global demand and the U.S.-China trade war. Fresh off a landslide election win in April, he has pledged reforms aimed at attracting foreign investment and reversing a persistent trade deficit.
Jokowi Wants Laws Hindering Indonesia's 'Leap of Progress' Axed
The record budget comes as governments around Asia look to support their economies in the face of a darkening global outlook. Thailand on Friday pledged a $10 billion package of spending and loans to juice growth to 3%, a day after Hong Kong committed to $2.4 billion in stimulus spending amid a spiraling political crisis.
Indonesia's economy has been struggling to move much beyond 5% growth for several years, given lackluster commodity prices and a downturn in its manufacturing sector. The economy expanded 5.05% in the second quarter, its slowest pace in two years, and is forecast to grow 5.2% for all of 2019. That's a far cry from the 7% growth Jokowi promised, but never delivered, in his first term.
"Although everyone is excited about the 5.3% growth target, the reality is that Indonesia is not growing as fast as its potential would suggest," said Trinh Nguyen, senior economist at Natixis Asia Ltd. in Hong Kong. "The president is trying to push for infrastructure investment but his fiscal deficit target is rather conservative, which begs the question who will fund these projects."
Enrico Tanuwidjaja, head of economics and research for PT UOB Indonesia in Jakarta, agreed that Jokowi's growth target is "quite optimistic" given the global outlook. Even 5.2% growth in such an environment "would be an achievement," he said.
Jokowi, whose first term was marked by a massive infrastructure drive, has turned his attention to boosting manufacturing and productivity. He also has unveiled steps to increase exports -- flagging plans to develop processing industries for a range of commodities -- after Indonesia posted its worst trade deficit on record last year.
Jokowi Calls for Local Processing of Nickel Amid Ban Speculation
The budget unveiled Friday includes a record 419.2 trillion rupiah for infrastructure, up from 399.7 trillion rupiah this year. Projects include 837 kilometers (520 miles) of roads and 238.8 kilometers of rail lines, as well as three new airports.
The president also needs to be more aggressive in capitalizing on the tariff fight between the U.S. and China, Nguyen said. Southeast Asian nations such as Vietnam are seeing a rush of investment as companies look to diversify their supply chains away from China.
"Indonesia is not at the top of investors' list when thinking about moving factories from China to other countries," Nguyen said.
| Key Numbers | 2019 Budget | 2019 Revised Outlook | 2020 Budget |
| --- | --- | --- | --- |
| GDP | 5.3% | 5.2% | 5.3% |
| --- | --- | --- | --- |
| CPI | 3.5% | 3.1% | 3.1% |
| Rupiah per Dollar | 14,400 | 14,250 | 14,400 |
| Avg. 3-month T-bill | 5.3% | 5.6% | 5.4% |
| Avg. oil price/barrel | $70 | $63 | $65 |
| Oil lifting | 750,000 bpd | 754,000 bpd | 734,000 bpd |
| Gas lifting | 1.25 million boepd | 1.07 million boepd | 1.19 million boepd |