Jokowi Challenger Moots Food Import Suspension in Poll Debate
(Bloomberg) -- Indonesian presidential candidate Prabowo Subianto pledged to halt imports of food crops and expand the use of biofuels to lower reliance on fossil fuel as the former general sought to narrow incumbent Joko Widodo's lead in opinion polls.
Prabowo, as Subianto is popularly known, blamed Widodo's agriculture policies for rising imports of commodities such as sugar, wheat and corn and harming the interest of local farmers. In the second presidential debate on Sunday, Widodo, known as Jokowi, defended the shipments of food crops, saying they were necessary to ensure price stability.
Stung by criticisms that the first presidential debate was too staged, the two men spoke without notes and faced more questions from moderators on energy, food, infrastructure and environment.
The debate was held against a backdrop of an increasingly heated election campaign, which has seen Jokowi step up attacks on Prabowo with allegations that he employed foreign consultants as well as Russian influence peddling. Prabowo has responded by blaming Jokowi's mismanagement of the economy for the nation's rising food imports, foreign debt and a widening trade gap.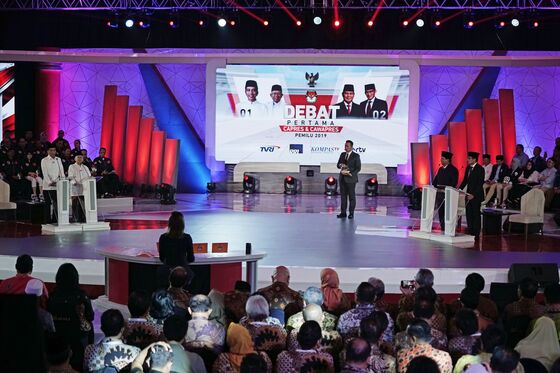 Jokowi is seeking a new mandate to carry on the infrastructure building boom and economic nationalism that's marked his first term, during which the government wrested control of assets from companies such as Freeport-McMoRan Inc. and Chevron Corp. Prabowo on Sunday said he will ensure the state controlled natural resources and punish companies damaging the environment and engaging in illegal mining.
"If we are given the mandate to be in power, we will ensure affordable food for all Indonesians, while ensuring producers, farmers, cattlemen and fishermen generate adequate income," Prabowo said. "We will cut electricity and staple food prices and provide fertilizer for farmers at low cost."
Prabowo has already promised to slash company and individual tax rates to rejuvenate Southeast Asia's largest economy. He is also pledging to deliver on programs for the poor, including reversing one of Jokowi's most unpopular policies to abolish the fuel subsidy on RON88 gasoline, as well as raising wages of civil servants and police officers.
While Prabowo offered more populist programs with a nationalist spirit, implementation won't be smooth given the open economic system in Indonesia, according to Myrdal Gunarto, an economist with Maybank Indonesia."Prabowo promised populist measures such as cutting electricity prices, but there would certainly be fiscal adjustment to realize it when the situation is not conducive," he said.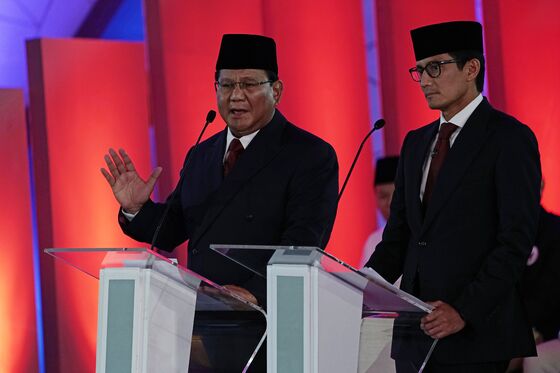 Jokowi said he will carry on the infrastructure agenda in his second term, push for the fourth industrial revolution by channeling resources to upgrade skills of the workforce. The president, who ordered a freeze in fuel and electricity prices until the end of 2019, is battling a ballooning energy subsidy bill. Coupled with a widening current account deficit, they have weighed on the currency and contributed to record public debt.
"In the future, we want to reduce as much as possible the use of fossil energy. We will work on the use of biodiesel and green fuel," Jokowi said. "It has been started with the production of B20, and we will continue it until it reaches B100, so that our dependence on fossil energy will decrease," the president said referring to the mandatory biodiesel blending program.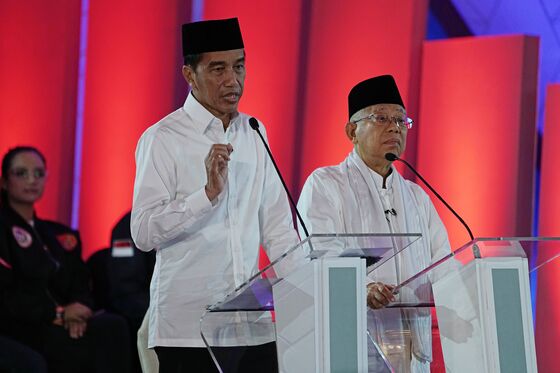 Jokowi is still leading in opinion polls by around 20 percentage points over Prabowo, according to surveys in late January. Some of the recent polls indicate Prabowo may be narrowing the gap, with an Indikator Politik Indonesia survey showing his electability rising to 34.8 percent in January from 30 percent a month earlier.
While the debate was an improvement over the first one in terms of content and mastery of the stage, neither candidate did enough to improve their electability singnificantly, said Arya Fernandes, an analyst at Center for Strategic and International Studies in Jakarta.