U.K. Kept in Dark by U.S. Over Travel Reopening: Tory Update
The U.K.'s governing Conservatives are meeting for their annual conference as the country grapples with a series of crises that threatens to undermine its economic recovery from the pandemic. 
Chancellor of the Exchequer Rishi Sunak said it was "immoral" to accumulate bills and borrow excessively to pay them. Earlier, in a round of morning interviews, he didn't rule out further tax increases down the line. 
In an interview with Bloomberg Television, Trade Secretary Anne-Marie Trevelyan said she expects a post-Brexit trade deal with the U.S. by the next general election, currently scheduled for 2024.
Johnson responds to reporters asking about economic pain
Sunak makes overtures to the Conservative faithful
Trevelyan gives a timeline for trade talks with U.S.
How Brexit Britain is isolated and running on fumes
U.K. in Dark Over U.S. Travel (6 p.m. U.K. time)
The U.K. is still not sure when the U.S. will lift its ban on allowing visitors back into the country because the government in London isn't being kept in the loop by the White House, a senior official said on condition of anonymity.
British ministers were blindsided by the U.S. announcement last month to allow entry to most air travelers from the U.K. and European Union starting in "early November," the official said. The exact start date, though, has not yet been set.
Funding to BBC Comes Under Scrutiny (3:03 p.m.)
The U.K.'s new culture secretary suggested British Broadcasting Corp. funding talks are on ice until it tackles what she called "groupthink" in its ranks. Groupthink is a derogatory term made famous in George Orwell's novel "1984" and it's when people go with the flow because they don't want to upset the consensus.
"My perspective is 'tell me how you're going to change, and then you get the settlement'," said Nadine Dorries, a long-time ally of Johnson who he appointed to the cabinet post last month. 
Her comments at a fringe event suggest Johnson's government will press on with its wide-ranging overhaul of the broadcasting sector. She said the BBC doesn't represent the working class, and confirmed the government will press on with a potential privatization of Channel 4. 
Gove Defines 'Leveling Up' Agenda (2:15 p.m.)
Michael Gove, the cabinet minister responsible for housing, comunities and delivering on the government's plan to narrow economic inequalities, set out his vision for "leveling up" in his conference speech.
"The left want to keep people in their place so that minorities can be patronized, the country can be polarized and ambition is paralyzed," he said. "We want everyone to have the chance to choose their own future, to own their own home, to walk the streets in safety and to live their best life."
Sunak Talks Up Fiscal Responsibility (12:05 p.m.)
Sunak told the conference he believes in fiscal responsibility because the money he spends is "not the state's money, it's your money."
"Just borrowing more money and stacking up bills for future generations to pay is not just economically irresponsible, it is immoral," Sunak said. "Yes, I want tax cuts, but in order to do that, our public finances must be put back on a sustainable footing."
He said his focus is on creating quality jobs, and that he will do "whatever it takes" -- reprise of his words from the beginning of the Coronavirus pandemic last year. "The only sustainable route out of poverty comes from having a good job," Sunak said. "It's not just pounds in your pocket, it's the sense of worth it gives you."
The Brexit View from Northern Ireland (12:02p.m.)
Democratic Unionist Party leader Jeffrey Donaldson said it was "time for action" from the U.K. government on the Northern Irish Protocol and reiterated his warning to collapse the regional assembly in Belfast if it is not removed. 
"I reminded the prime minister that if there is no action to remove the Irish Sea Border then we will have no option but to ask the voters in Northern Ireland for their verdict," he said, following a meeting with Johnson in Manchester.
Why Has U.K. Not Triggered Article 16 Yet? (12:00 p.m.)
At a Policy Exchange event, Brexit Minister David Frost discussed the possibility of triggering Article 16 of the Northern Ireland Protocol, which allows either side to suspend elements of the agreement if it is causing serious problems. 
"My worry is that the process has got a bit slow," Frost said. "We did our command paper back towards the end of July. We need to move it along a bit. I'm hopeful we'll get something from the EU soon. It's better to have good relations if we can. We really need to test that. We need to test if it's possible to come to a good negotiated solution."
Sunak Has Warm Words for Johnson (12:09 p.m.)
For relationship watchers, Sunak also had warm words for Johnson, who was sitting in the audience. The chancellor, in his first speech at a Conservative conference as chancellor, described the prime minister as "my friend."
After a weekend story in the Daily Mail suggesting Johnson has appointed tall ministers in Sunak's Treasury to make the 5 foot, 6-inch chancellor feel small, he also made a joke about his own height, commenting that when people meet him, they tell him: "You're even shorter in real life."
Johnson Asked about U.K. Pain, Says Wages Up (11:00 a.m.)
Following on from a media round where Sunak was repeatedly asked about the cost of living, Johnson was also asked by reporters if he is concerned about the pain caused by rising inflation, tax rises and the cut to Universal Credit welfare payments for households.
Johnson repeated his defense that his government is investing in a "high-wage, high-skilled economy."

"I think what you're seeing in the U.K. at the moment, and over the last year or so, you've seen for the first time in more than a decade, you're seeing increases in wages, which is what we want to see," he told reporters.
Kwarteng Talks of 2025 Power Generation Target (10:30 a.m.)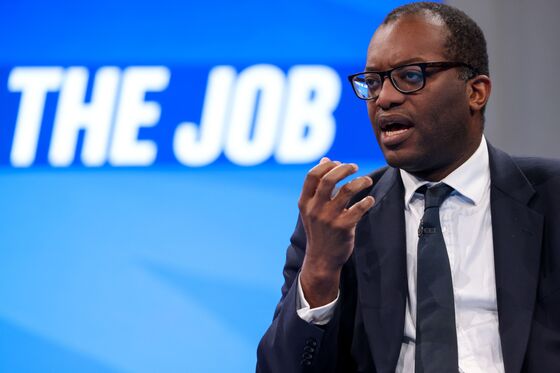 Business Secretary Kwasi Kwarteng said that the U.K. has an ambition to eliminate the use of gas as well as coal for power generation by 2035. 
Kwarteng said that parts of the U.K.'s industrial heartlands in northern and central England are seeing "investments that we haven't seen in 100 years" as a result of the U.K.'s "net zero" push to eliminate carbon emissions by 2050.
"Net zero isn't just about a green revolution, it's actually about an industrial revolution," Kwarteng said at the conference in Manchester. "All of those areas are seeing investment that we haven't seen in decades, all thanks to net zero"
U.K. 'Hopes' for U.S. Trade Deal Before Next Election (9:44 a.m.)
Britain is hopeful it will be able to sign a trade deal with the U.S. before the next general election, Trevelyan said in a TV interview. "That's the sort of time-frame that's realistic,' Trevelyan said, though she said it would be unlikely before 2023. "There's a huge amount we can do while we work towards a comprehensive trade deal."
Brexit Was Partly to Blame, Sunak Admits (9:34 a.m.)
Sunak acknowledged that the U.K.'s departure from the EU has contributed to the current supply chain disruption. He was confronted with a long list of possible effects of a no-deal Brexit that the government had included in preparatory documents before the divorce was completed.
Alastair Campbell, the former Labour Party spin doctor who asked the questions in an ITV News interview, listed factors including delays for trucks entering the U.K., immigration issues, disruption to fuel supplies resulting in panic buying and reductions in deliveries of fresh foods.
Sunak replied that "trying to blame that on Brexit I don't think is reasonable," before Campbell interjected to ask "None of that has got anything to do with Brexit?" Sunak replied: "It's certainly not exclusively to do with Brexit."
U.K to Send Legal Texts on Northern Ireland (9:15 a.m.)
Britain will soon send legal texts to the EU backing up its proposals to overhaul the divorce treaty regarding Northern Ireland, Brexit Minister David Frost said. "We need significant change," Frost said. "It's no use tinkering around the edges." Behind the posturing, talks between the U.K. and EU are expected to last a number of weeks to reduce the threat of drastic action that could disrupt trade and damage relations further.
Is the U.K. Committed to HS2 Rail Link? (8:00 a.m.)
"The government is committed to HS2," Sunak told LBC Radio. "We are as a government, of course we are."
"Infrastructure can transform people's prospects that's why very simply" that the government is committed to HS2, Sunak said. "Some of these big projects at the time you do them, people will be skeptical, but over time, people will see that improving the connectivity amongst our cities will help us create job opportunities and that's what it's about."
Sunak Can't Guarantee Council Tax Won't Rise (7:20 a.m.)
Sunak said he can't rule out further tax increases to pay for social care, raising the prospect of further tension within the governing Conservative Party over how the government will foot the bill for its spending plans.
The Local Government Association has said council taxes might have to rise because of higher costs for looking after the elderly, disabled and long-term sick. Asked whether he could guarantee there won't be increases after warnings of a potential jump of 9%, Sunak told Sky News "I wouldn't, I wouldn't, I can't, I can't."
Later, he told Times Radio that councils raise their own money, and referred to "the bits that I and the prime minister are responsible for at a national level," the "difficult decision" has been made already to levy more tax and "ideally we wouldn't have to do anything like that again."