J&J Buoyed by Tylenol, Branded Drugs While Devices Struggle
(Bloomberg) -- Johnson & Johnson reined in its outlook for the year after the coronavirus pandemic caused a first-quarter surge in demand for consumer brands like the pain reliever Tylenol but eroded sales of its medical devices.
J&J's results are an early indication of how consumers and health-care providers shifted their behavior as Covid-19, the disease caused by the coronavirus, started to spread in the U.S. Sales of medical devices dropped as elective surgeries were put off to clear space for coronavirus patients. Many patients also shifted from 30-day to 90-day supplies of prescription medicines in preparation for a prolonged stretch at home.
The company's sprawling business model allowed it to offset pain in some areas with gains in others that tend to be much slower-growing in normal times. J&J posted stronger first-quarter revenue and earnings compared with a year earlier and raised its quarterly dividend 6.3%.
"There's a strategic advantage of being the most broadly based health-care company in the industry," Chief Executive Officer Alex Gorsky said on a conference call with investors on Tuesday.
Looking ahead, however, the cumulative disruption caused by the virus is likely to cause the company's 2020 results to be weaker than initially forecast. J&J said it expects sales of $79.2 billion to $82.2 billion for the year. Previously, it had projected revenue of $85.8 billion to $86.6 billion.
Shares of J&J rose 4.2% to $145.69 at 11:55 a.m. in New York on Tuesday.
The New Brunswick, New Jersey-based company's pharmaceutical unit posted a sales gain of 8.7% to $11.1 billion in the first quarter, driven by blockbuster immunology drug Stelara, and cancer drugs Darzalex and Imbruvica.
Chief Financial Officer Joseph Wolk said on Bloomberg TV that J&J's pharmaceutical portfolio saw an uptick as patients stockpiled medicines. Immunology and cancer drugs are expected to have more resilient sales compared to other hospital-administered therapeutics, he said. Wolk doesn't anticipate major clinical-trial disruptions for experimental medicines.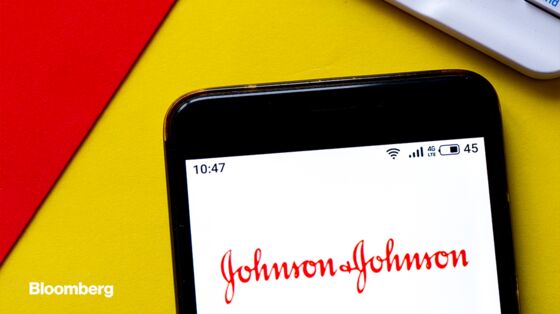 J&J's consumer-products unit pulled in an $3.6 billion in sales in the first quarter, up 9.2% in annual terms and the highest level since 2014. J&J is one of the last major drugmakers to hold onto a consumer business. Competitors haves spun out their units, pushing them off their balance sheets to focus more on drugs for cancer and rare diseases.
A number of J&J's consumer brands, including Tylenol, Motrin, Listerine, Neutrogena and Avena, are seeing record demand, Kathleen Widmer, chairman of the J&J's North America consumer-health unit, told Bloomberg in March. Much of the sales gains have come through websites run by CVS, Walmart, Target, Costco, "and, of course, Amazon," she said. As result, J&J is ramping up production.
"We've been making a series of minute-by-minute, day-by-day decisions to maximize the supply and inventory of our high demand products, especially Tylenol," which is being used to treat symptoms of Covid-19, Widmer said. "Our plants right now in Las Piedras, Puerto Rico and Fort Washington, Pennsylvania are running flat out."
However, the "pantry loading" phenomenon seen in the first quarter won't persist throughout the year, Wolk said.
J&J said there are continued risks to the core business posed by the Covid-19 pandemic, including the duration of the outbreak, government restrictions, supply-chain disruptions and delays and cancellations of medical procedures.
The decline in procedures has already slowed sales of J&J's medical devices. Revenue in that business fell 8.2% to $5.93 billion in the period. Its surgery and orthopedics businesses, particularly in China, took a hit.
Wolk, the finance chief, said he expects the number of surgical procedures to increase soon in Asia-Pacific region as providers once again open their doors. That will likely improve its device sales in the region for the second quarter. In the U.S. and Europe, however, medical devices sales are expected to hit pandemic-driven lows in the coming quarter.
"We get a question or two on an annual business about why we don't break the company up. This underscores our strategy" to remain diversified, Wolk said.
Overall, J&J's first-quarter revenue climbed 3.3% from a year earlier to $20.69 billion, while its adjusted earnings per share climbed 9.5% to $2.30, from $2.10 a year earlier.
Separately, J&J said on Tuesday it would increase its quarterly dividend to $1.01 a share from 95 cents a share.
The increase "reflects the stability of the business and the confidence in the company's long-term outlook," Edward Jones analyst Ashtyn Evans said a Tuesday note to investors.