Patel Orders Probe Into Police Over Sarah Everard: Tory Update
(Bloomberg) -- Home Secretary Priti Patel ordered an independent inquiry into "failures in policing" after the rape and murder of a young woman by a serving officer. The death of Sarah Everard sparked a public outcry at the prevalence of violence against women in Britain.
On the third day of the annual gathering of Prime Minister Boris Johnson's Conservative Party, attention shifts to security, both at home and abroad. It is a theme intimately linked to Brexit and the U.K.'s ambition to break rank with the European Union to curb immigration and carve an independent foreign and defense policy.
Patel says public has right to know 'systemic failures' that led to Everard murder
Johnson dismisses talk of early election and plays down supply chain ructions
Defence Secretary Ben Wallace will be next closely-watched speaker
Johnson Says 'No Alternative' to Supply Chain Turmoil (1 p.m.)
In another series of interviews, Johnson sought to play down a supply chain crisis that's seen fuel shortages and empty store shelves, calling it a "turning point" as the government tried to overhaul the economy.
The prime minister said a dearth of truck drivers is a global issue and told businesses they need to do more to address supply issues. He even channeled former leader Margaret Thatcher to make his point: "In a famous phrase, there is no alternative," he told ITV. "We've had an environment in the U.K. where we've accepted a low wage, low skill, low productivity approach and that needs to change."
Patel Outlines Her Hard Line on Asylum Seekers (12:21 p.m.)
Patel drew a standing ovation for her hard line on illegal immigration. She has been in heated discussions with her French counterpart over the number of migrants crossing the English channel to the U.K. They often travel in small boats and dangerous waters.
"Britain's asylum system might have worked 20 years ago, but not now," she said. "The system is collapsing under the pressures created by these parallel illegal routes to asylum, facilitated by criminal smuggling gangs."
She attacked what she called the opposition Labour Party's more lenient approach, and said "economic migrants" are undermining the U.K.'s "ability to support those in genuine need of protection."
She also announced plans for harsher penalties against climate activists who have blocked major roads around London in recent weeks.
Patel Orders Probe Into Police Over Everard (12 p.m.)
Amid growing public pressure over the murder of Sarah Everard by a serving police officer, Patel finally ordered an independent inquiry into the police in her keynote speech to the Conservative Conference. 
"Recent tragic events have exposed unimaginable failures in policing," she said. "It is abhorrent that a serving police officer was able to abuse his position of power, authority and trust to commit such a horrific crime."
Questions have been mounting over how Wayne Couzens retained his position despite previous incidents of indecent exposure and how police force's are monitoring the behavior of their officers. The Metropolitan Police's top cop, Cressida Dick, has come under pressure to resign over a series of failures that allowed Couzens to stay working as a firearms officer.
Analysis of Johnson's Morning Media Round (9:12 a.m.)
Johnson toured the makeshift media booths at the Tory conference in Manchester with his usual bravado and bluster on Tuesday morning, repeatedly trying to turn the U.K.'s supply crisis into a turning point for the country that, he claimed, would eventually result in higher wages and less reliance on immigration and state benefits. 
Shortages of fuel and food aren't a unique crisis for Britain, he said, but were happening across the world as the global economy creaks back into life as the Covid-19 pandemic eases. The premier said the U.K. had only received 127 visa applications from fuel tanker drivers so far but appeared to blame road haulage industry chiefs for not giving the government enough names. He also called on people to get back to their offices, and he dismissed concerns that over 120,000 pigs face being culled due to a lack of slaughterhouse staff -- choosing to joke about bacon sandwiches instead.
His long-winded answers eventually frustrated one BBC radio presenter Nick Robinson, who told him: "Prime minister -- stop talking." But Johnson was in his element, sticking to the script on a new chapter for Britain and never once admitting responsibility for the U.K.'s multiple pressures. He also waved away a question over a potential early election: "Nobody is thinking about that right now, quite frankly."
Tense Exchange With BBC Presenter on Radio (8:38 a.m.)
Johnson said he wouldn't be "pulling the lever marked uncontrolled immigration" to solve truck driver shortages in the U.K., despite offering 5,000 short-term visas. Businesses have been able to "mainline" low-wage, low-cost immigration for over two decades -- resulting in the "suppression of pay and conditions", he told BBC radio. 
But Johnson's long-winded answers frustrated presenter Nick Robinson, who eventually told him: "Prime minister -- stop talking." He then went on to say: "We're going to have questions and answers, not where you merely talk if you wouldn't mind." Johnson had not been on the BBC Today show for two years.
Johnson also defended a cut to benefits for the lowest-paid workers, saying: "Organically business and industry should be paying people a little bit more in order to help them."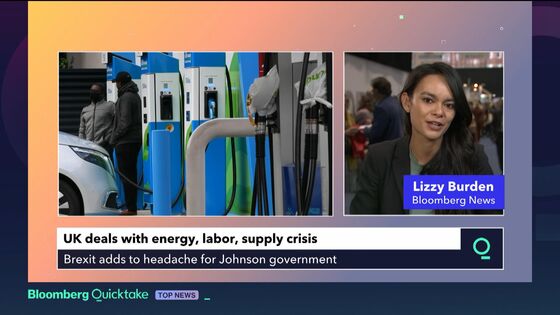 Johnson Says People Should 'Get Back to Work' (8 a.m.)
The prime minister said he was "certainly encouraging" people to "get back to work in the normal way" as the U.K. entered the next stage of the Covid-19 pandemic. "For young people in particular, it's really essential -- if you're going to learn on the job, you can't just do it on Zoom," he told LBC Radio. "You've got to know what everyone's talking about, otherwise you're going to be gossiped about."
Johnson Asked About Police Reform (7:45 a.m.)
Johnson said there must be "radical change" in the way female victims' complaints are handled in the criminal justice system, in the wake of the murder of Sarah Everard which has shocked the U.K. He told BBC television there was "abundant statute" on domestic violence, rape, harassment that was "not being properly enforced." Police "need to be taking women's complaints seriously," he said.
Only 127 Truckers Applied for Visas (7:30 a.m.)
The Times of London reported that only 27 fuel tank drivers from the European Union applied to work for the U.K. under an emergency visa program. Johnson corrected the figure to 127 on air during an interview with the BBC. Regardless, it's an incredibly low number and shows how the scheme is not really fixing the supply crunch. 
Shadow of Afghanistan and 'Aukus' (Monday)
Defence Secretary Ben Wallace will take the stage Tuesday against an interesting backdrop. There was the much-criticized evacuation from Afghanistan where European allies -- including the U.K., France and Germany -- lobbied the Americans to extend the deadline of withdrawal from Kabul only to be shot down. That left a residue of resentment among established Group of Seven partners. But it also made clear that the U.S. would not be as actively involved in international affairs as it had been in the past, with the Biden administration clearly focused on what to do about a more assertive China.
The U.K. has a relationship both with the U.S. and Europe and how it exerts its influence and which side it picks when there is dissent will be something that foreign-policy makers will be watching closely. Wallace keeps his cards close to his chest but his views, or whatever clues he drops, will be noteworthy.
The Stink Over Brexit and Article 16 (Monday)
Cabinet Minister and former Brexit negotiator David Frost rattled his saber when he addressed a Tory audience on Monday. He gave them what they wanted to hear, that the U.K. was going to stand up the EU and suspend parts of the divorce agreement covering trade with Northern Ireland. Behind the scenes, as Bloomberg reported, both sides are in no huge rush and talks will go for weeks. 
At a side event, Frost did give a revealing nugget on who is pushing hardest: "The prime minister is the toughest person in the room, even tougher than me, and is absolutely committed to seeing this through."
Frost also gave a sense of the timeline. He expects an EU response within the next 10 days, then about three weeks of negotiations. At that point, the U.K. will make the call on whether to pull the trigger on Article 16 and unilaterally suspend parts of the Brexit deal relating to the border on the island of Ireland.