Johnson Controls Power Unit Is Said to Draw KKR, Apollo Interest
(Bloomberg) -- Johnson Controls International Plc is drawing interest from private equity firms KKR & Co. and Apollo Global Management LLC for its power solutions business that could value the unit at as much as $12 billion, people familiar with the matter said.
The firms were part of a select group of financial sponsors, which also included CVC Capital Partners and Advent International, that were invited to what's known as a gold card meeting with Johnson Controls management last week to assess their interest in the unit, the people said.
A decision on whether to proceed with an auction is expected shortly, said the people, who asked not to be identified because they weren't authorized to speak publicly. The talks, which were preliminary, may not lead to a sale, they said.
Representatives for Johnson Controls, KKR, Apollo, CVC and Advent declined to comment.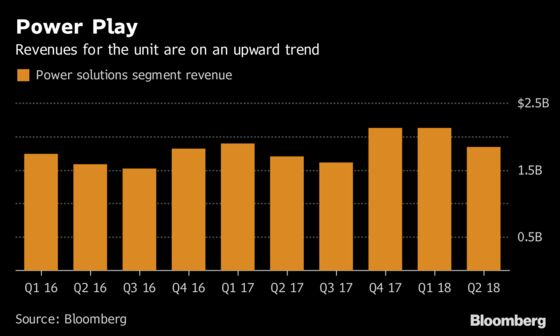 Johnson Controls, which is based in Cork, Ireland, and also has offices in Milwaukee, announced in March that it had hired advisory firm Centerview Partners to explore strategic options for the unit with Chief Executive Officer George Oliver saying the company's focus is on improving operational execution and realizing merger synergy. A $12 billion valuation would give the battery unit a multiple of about eight times earnings, based on a company statement that in 2017 the business generated $7.3 billion in revenue and $1.6 billion in earnings before interest, taxes, depreciation and amortization.
The company is the world's largest producer of automotive batteries, building one-third of all of those produced globally, according to its website. The power solutions unit employs 15,000 worldwide and manufactures and distributes batteries for almost every type of vehicle, according to its website.
Johnson Controls also operates a buildings technology and solutions business that makes safety and security products, a business which was strengthened through its 2016 merger with Tyco International.