John Dingell Hailed by Automakers and Politicians on Both Sides
(Bloomberg) -- The "Big Three" automakers, labor unions, environmental activists, Republicans and Democrats alike praised the legacy of Michigan Democrat John Dingell, the longest serving member of Congress in U.S. history who died Thursday at age 92.
UAW, the union for autoworkers championed by Dingell, said the former congressman was a "rare accessible hero that would fight for our paychecks, our health care, our labor rights and our civil and human rights."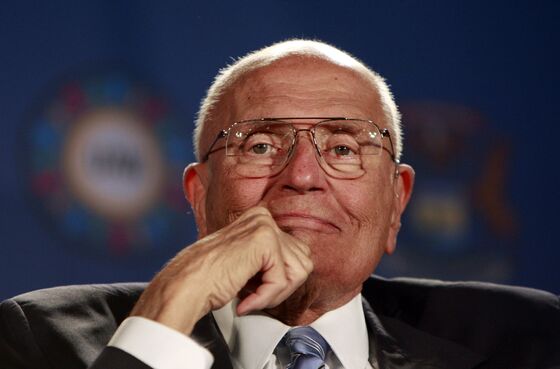 General Motors Co. Chief Executive Officer Mary Barra tweeted that Dingell's "dedication to the auto industry and Michigan are undisputed and we will miss his unifying voice and wry sense of humor."
Ford Motor Co. Executive Chairman Bill Ford called Dingell a friend and adviser who sought to find common ground even on the thorniest of issues. "His passing is a reminder that we need more leaders who are willing to find compromise and bring people together for the greater good," Ford said.
Dingell's death united both Democrats and Republicans in praise of the long-time lawmaker. Michigan Governor Gretchen Whitmer, a Democrat, said all politicians could learn from Dingell "in this divisive time."
Former President George W. Bush, a Republican, said he spoke to Dingell earlier today, to thank him for his service to the country "and for being an example to those who have followed him into the public arena." Republican National Committee Chairwoman Ronna McDaniel, herself a Michigander, said in a statement that the nation is mourning "the passing of a legend."
Former President Barack Obama said Dingell's life is a reminder that change "does not always come with a flash, but instead with steady, determined effort." Obama praised Dingell's role in fighting for the Civil Rights Act, rescuing the U.S. auto industry during the financial crisis, creating Medicare and then, decades later, sitting alongside him at the 2010 signing of the Affordable Care Act.
House Speaker Nancy Pelosi said Dingell "leaves a towering legacy of unshakable strength, boundless energy and transformative leadership," while former Vice President Joe Biden said Dingell earned his title of Dean of the House "not just because he was there the longest - but because he led with great moral courage and vision."
Natural Resources Defense Council, an environmental group usually at odds with car makers and Republicans, said Americans have lost "someone who played a leadership role in many of our foundational laws that continue to protect the environment and public health. He helped create the Clean Water Act, the Endangered Species Act and the National Environmental Policy Act. What a legacy.''
Dingell was also known for his love of the University of Michigan, which awarded him an honorary degree in 2015. His Twitter account in its final days interspersed the usual biting criticism of political foes with praise for the Michigan men's basketball team and cheers of 'Hail' and 'Go Blue.'
University of Michigan President Mark Schlissel in a statement praised Dingell, saying "we will miss him dearly, but his impact will endure."