JetBlue Sets August Start for Awaited London Flights
(Bloomberg) -- JetBlue Airways Corp. will jump into a pandemic-battered trans-Atlantic aviation market that remains largely shut down, starting long-promised flights between New York and London this autumn.
Daily nonstop service from John F. Kennedy International Airport to London's Heathrow starts Aug. 11, the carrier said in a statement Wednesday, followed by flights to Gatwick beginning Sept. 29.
Ticket sales start today, with fares for U.S.-based travelers starting at $599 (490 euros) round-trip in coach and $1,979 for premium seats. U.K.-purchased fares range from 329 pounds to 999 pounds. JetBlue plans to add Boston service next year. An equivalent American Airlines Group Inc. flight would cost $994 in coach and $2,589 in business class.
The trans-Atlantic effort is a gamble for the New York-based carrier, especially amid coronavirus-related travel restrictions between the U.S. and U.K.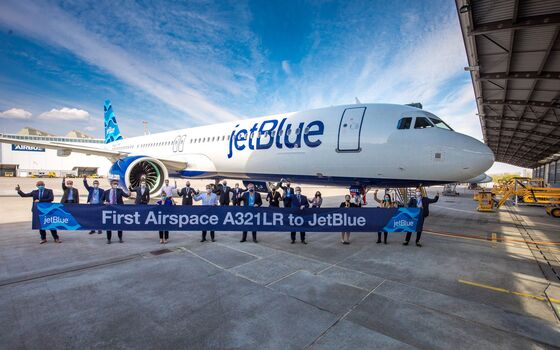 JetBlue, which has carved out a domestic niche between major U.S. carriers and smaller discounters, will have to work hard to gain its share of travelers from entrenched global airline alliances and struggling low-cost operators as international air travel revives. Chief Executive Officer Robin Hayes could be challenged to make good on his vow to bring new consumers to the market by undercutting "obscene" business-class fares.
"If you look at the direction the European countries are going, we would expect the travel restrictions to be alleviated as we step into the summer time frame," President Joanna Geraghty said in an interview. "We think now is the right time. It's an exciting time because when things reopen, people are going to have a pent-up desire to fly to London."
JetBlue reaped one benefit from the pandemic. As carriers pared flying when demand evaporated, airport gates and flight slots opened at London's two busiest airports. The Heathrow access lasts only through March, however, and JetBlue is negotiating with U.S. and U.K. governments for permanent space. JetBlue hasn't selected a London airport for the Boston flights.
"We anticipate the airport is going to want us to stay once they see what we bring to Heathrow," Geraghty said. "It's really important for airports to recognize that competition makes things healthier, competition drives demand."
The U.S. still is restricting travel into the country by non-American citizens from the U.K., Ireland and 26 other European nations. And quarantine requirements remain in place for travelers from the U.S. to the U.K., effectively discouraging all but long-term travel plans. Worldwide, passenger traffic on long-distance global flights isn't expected to recover to 2019 levels until 2024, according to the International Air Transport Association.
JetBlue will face off against cross-Atlantic alliances between British Airways and American; Delta Air Lines Inc. and Air France-KLM; and United Airlines Holdings Inc. and Deutsche Lufthansa AG -- primarily operating wide-body aircraft. And competition has jumped from carriers flying single-aisle planes like JetBlue does, including Portugal's TAP, Aer Lingus, Alitalia and Icelandair Group.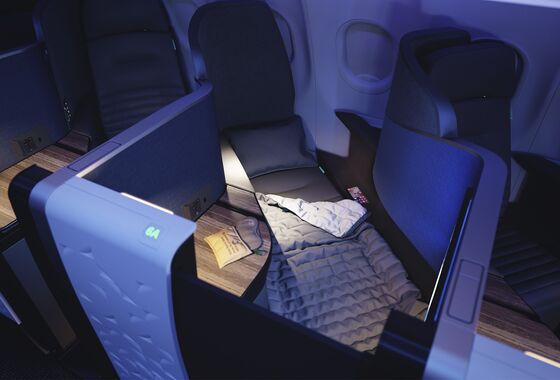 JetBlue has been considering trans-Atlantic flights since at least 2016, when it ordered Airbus SE A321 single-aisle planes with the option to convert some of the aircraft to a version with extra fuel tanks for longer routes. It decided in 2019 to switch 13 existing orders to the 206-passenger A321LR, which can fly 4,000 nautical miles -- sufficient to hop from the U.S. Northeast to Western Europe.
The airline also has stepped up its game inside the aircraft, offering 24 premium berths with lie-flat seats and sliding doors on its London flights, and private "studios" with an extra seat and pop-out table that allow two people to dine together. There will be 117 coach seats.