JetBlue Sees Cheaper Luxury Seats Spurring Trans-Atlantic Travel
(Bloomberg) -- JetBlue Airways Corp. is ready to brag about its premium offerings on potential trans-Atlantic routes, even if it hasn't yet decided whether to start flying to Europe.
If it jumps into one of the world's busiest markets for business travel, the airline would be betting on replicating the success it's had on cross-country U.S. flights with its high-end Mint cabin. The product cut premium fares as much as 50 percent while generating financial returns that exceeded the company's own expectations, JetBlue said.
"We know we can compete in the front cabin with any airline that provides trans-Atlantic service,'' President Joanna Geraghty said in an interview at JetBlue's headquarters in New York. "There are a lot of customers and a lot of premium seats. We only need a small incremental part to be very successful.''
JetBlue is studying the growth and profit potential of trans-Atlantic flights while rolling out a plan to revive its shares by revamping operations. The changes, laid out earlier this month, include improving JetBlue's industry-lagging on-time performance, cutting costs with new or renegotiated maintenance contracts and beefing up service in New York, Boston and Fort Lauderdale, Florida.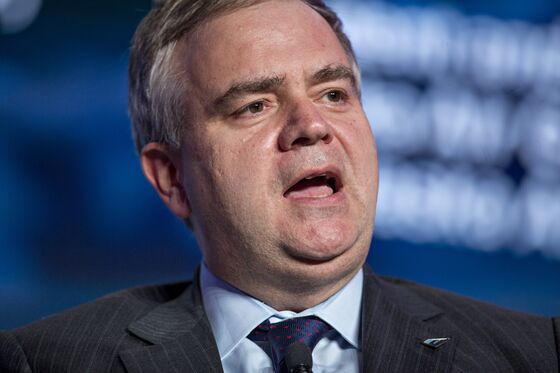 The shares tumbled 26 percent this year through Oct. 19, the worst among U.S. carriers except for American Airlines Group Inc. The shares were little changed Monday at $16.54 at 2:17 p.m. in New York.
The initiatives outlined Oct. 2 will produce earnings of as much as $3 a share in 2020, the company said earlier this month. That compares with a $2.21 average estimate from analysts. But JetBlue has dropped 13 percent since the presentation, and Chief Executive Officer Robin Hayes acknowledged skepticism among analysts and shareholders.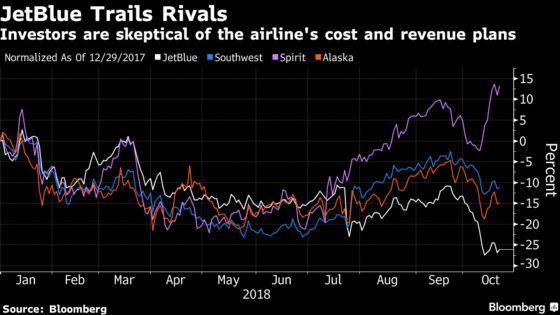 "We continue to engage with our investors," he said in the interview. "We take their feedback very seriously. We're going to grind out the results, quarter by quarter, and demonstrate a path to hit the commitments we've laid out."
The latest plan is on top of a three-year structural cost reduction effort in which it's achieved $171 million of a planned $250 million to $300 million by 2020. JetBlue recently led the industry in raising the charge for first and second checked bags by $5 each, and said it would offer discount prices in a new fare class with fewer frills to combat similar offerings from rivals.