JetBlue Founder Says New 'Breeze Air' on Track to Fly This Year
(Bloomberg) -- Breeze Airways, the latest offspring of serial airline entrepreneur David Neeleman, will start flying later this year with a fleet that will put his low-cost plans to the test.
The new airline is standing by its early pledge to fly where it won't face competitors and operate on days and times of highest demand, Neeleman said this week in an interview. Breeze's initial markets will be U.S. city pairs that currently have no nonstop service, and it's already identified 500 potential routes.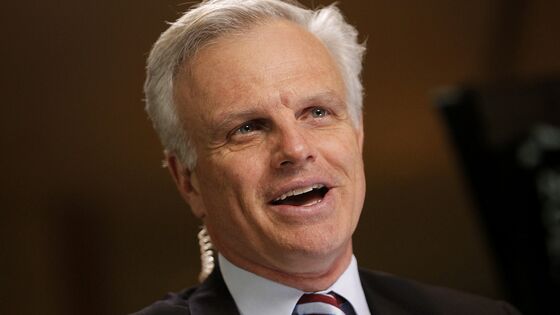 "We'll go to larger cities, but from cities that don't have any service," he said. "I don't think we're going to fly a single route anybody is flying on. There's no reason to fly to places that already have competition."
Breeze, which was dubbed Moxy during development, will be low-cost "but not austere," Neeleman has said, and will enter a market populated by other discounters, as well as the four largest U.S. airlines. Breeze will operate among mid-sized cities that lost nonstop service as larger airlines combined and focused on building up strategic hubs.
The startup's strategy echoes the early business plans of successful ultra-low-cost carriers Allegiant Travel Co. and Sun Country Airlines Inc., both of which have sought to avoid large competitors and sync their schedules to periods of highest demand.
But unlike many discount carriers that hold down expenses by operating a single aircraft type, Breeze will fly two different models, challenging its low-cost ambitions right out of the gate. Flying a single type of plane holds down expenses for things like training and parts inventory, and by allowing pilots to move across the full fleet.
The new carrier will start with 30 used Embraer SA E195s, which it will begin receiving in May. Those planes will be leased from one of Neeleman's earlier creations, Azul SA in Brazil. Breeze has ordered 60 Airbus SE A220-300s, and holds options to buy 60 more. The first A220, which can seat up to 160 in a single-class configuration, is scheduled to arrive in April of next year.
Neeleman, who also co-founded Morris Air and created JetBlue Airways Corp. in the U.S. and Canada's WestJet Airlines Ltd., discussed his plans for the discounter as he seeks U.S. regulatory approval for the new flights from the Federal Aviation Administration.
Given the FAA's remaining certification work, Neeleman declined to say when Breeze will begin flying but predicted its debut in "probably October or November."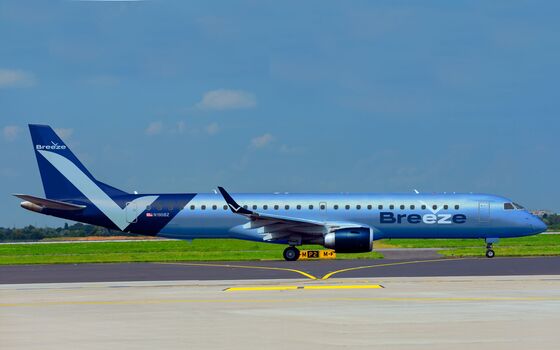 Neeleman said he expects to start international service with the A220 once he has two or three of those planes. Domestically, he said the company can "do fine" even with just 50 or 60 passengers on board the 122-seat E195s. Breeze's per-trip costs will be as much as 20% below that for an Airbus A319, which has room for 156 single-class seats, he said, without elaborating.
He focused his comments on costs that would benefit from flying used E195s, avoiding unions, selling on-board amenities and reducing overhead by pushing transactions online and to mobile apps. He didn't offer an estimate using the industry standard of nonfuel costs to fly each seat a mile.
While acknowledging a shortage of pilots in the U.S., he said Breeze already has an "initial cadre" of about 10 who will take part in certification flights and that he's confident he'll be able to hire enough aviators. Breeze also plans to do some pilot training in house.
"We're going to compensate our people well and we're going to take really good care of them," he said. "There are a lot of pilots flying for airlines that would rather fly with us."
Breeze Aviation Group will be headquartered in Salt Lake City, but Neeleman declined to say where the airline's flight operations will be based. He also wouldn't name any potential routes.
Breeze employees who have posted their positions on LinkedIn includes former executives at Allegiant, JetBlue, Alaska Air Group Inc. and Virgin America. Neeleman will be chief executive officer and president, with Tom Anderson, a veteran of Airbus and Virgin Atlantic Airways Ltd., as chief operating officer. Lukas Johnson, previously with Allegiant, will be chief commercial officer.
Neeleman has touted Breeze as focused on technology that will give customers new ways to customize their flight experience, including legroom, food and prices -- primarily from a mobile app that's still under development. He declined to name any of the technology companies Breeze is working with.