JetBlue Bets on Bag Fees and Fewer-Frills Fare Class to Boost Revenue
(Bloomberg) -- JetBlue Airways Corp., lagging the airline industry's share returns for a third straight year, is stepping up efforts to boost revenue.
The New York-based carrier led U.S. airlines in raising fees for checked bags this summer. It's cutting frills in a new fare class designed to keep up with similar offerings at larger rivals and smaller discounters. And its long flirtation with a plan to start trans-Atlantic flights is winning support from investors.
Driving it all is the pressure on Chief Executive Officer Robin Hayes and President Joanna Geraghty to shore up profit margins as rising costs erode earnings. Since its first flight 18 years ago, JetBlue has built a $6.1 billion market value by offering point-to-point flights to New York, Boston and a collection of other "focus cities." Now the carrier needs to find new sources of growth.
"JetBlue in some ways is at a crossroads,'' said Samuel Engel, head of the aviation group at consultant ICF. "The easy development of their original business model is leveling out.''
The shares were down less than 1 percent Monday to $19.35 at 10:30 a.m. in New York. JetBlue dropped 13 percent this year through last week, the biggest decline among major U.S. carriers except for American Airlines Group Inc.'s 21 percent slide. JetBlue trailed a Standard & Poor's index of U.S. airlines last year and in 2016.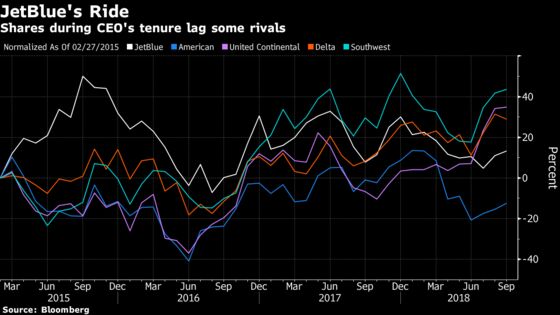 JetBlue is poised to update analysts and investors at a conference in New York on Tuesday.
"Evolution and innovation to stay ahead of industry change is in our DNA," said Doug McGraw, a JetBlue spokesman. The carrier's original business model didn't contemplate international service or a premium cabin -- both of which it later added.
One question on Wall Street's mind is whether JetBlue will jump into the trans-Atlantic market, taking on established incumbents such as American and British Airways. JetBlue investors including Brent Wilsey are eager for the move.
"What they've done has worked pretty well, but it has come time for them to expand," said Wilsey, president of Wilsey Asset Management, which owns JetBlue shares. "They've got the financial capabilities to do that. It's a good time for them to grow in a different market."
Hayes said in September that JetBlue would probably bring down "obscene" fares on flights across the North Atlantic. He said JetBlue has the potential to replicate the success of its Mint premium product, a service with lie-flat beds, on trans-continental U.S. routes. Hayes said the offering improved passenger experience while halving fares on flights from New York to San Francisco or Los Angeles.
To traverse the ocean, JetBlue is considering converting some existing aircraft orders to the long-range version of Airbus SE's A321.
"It makes a lot of sense," said Joshua Schachter, senior portfolio manager at Snow Capital Management, which own JetBlue shares. "There are certainly risks, but the opportunities outweigh those risks."
The company is also adding more airline experience to its board, which previously only had two industry veterans plus Hayes. In August, the company appointed Ben Baldanza, former CEO of deep discounter Spirit Airlines Inc., and an expert on fees passengers pay beyond their ticket price. JetBlue also named Sarah Robb O'Hagan, CEO of an indoor-cycling company, whose past experience includes a stint as marketing director at Virgin Atlantic Airways Ltd.
The challenge is that growth, especially with new routes to Europe from cities such as Boston and New York, will add to JetBlue's cost pressures. New and pending labor contracts are adding to the concerns, as are operational issues that continue to see the carrier near the bottom of the industry in on-time performance.
Pretax income has fallen by at least a third over the last three years, JPMorgan Chase & Co. analyst Jamie Baker told Hayes during a conference call in July. "It seems like the more you grow, the less you earn," he said.
JetBlue is in the midst of a three-year effort led by Chief Financial Officer Steve Priest to reduce annual structural costs by $250 million to $300 million before 2021.
It's also looking for help from new planes, replacing Embraer SA E190s with Airbus SE A220 jets that should reduce costs and help boost pretax profit margins, Priest said. But the aircraft don't start arriving until 2020.
That leaves JetBlue facing a test of whether it can entice investors in the shorter term.
"They might be feeling pressured to get big or go home," said Vicki Bryan, founder of Bond Angle, an independent research firm. "JetBlue's network is fabulous, but their costs are only going to go up from here. It's a risky time to make a huge transition."