Jefferies Investment Banking Slips on Slump in Bond Underwriting
(Bloomberg) -- Jefferies Group LLC said investment-banking revenue fell on a slump in bond underwriting, flipping a trend in recent quarters in which the business outperformed trading.
Shares of the company declined after it reported a 5.1 percent drop in revenue from advising on mergers and underwriting stocks and bonds. Fixed-income trading also slipped.
"The usual summer slowdown appeared to impact activity levels in both the primary and secondary debt markets," Chief Executive Officer Rich Handler and Brian Friedman, chairman of the executive committee, said in the statement. They cited lower leveraged-finance transaction levels and "more muted" advisory activity.
Revenue from trading increased 2.4 percent from a year earlier, ending a decline of five straight quarters.
"Results have stabilized in recent quarters, but haven't exactly caught fire growth-wise," David Havens, an analyst at Imperial Capital LLC, said in a note.
The trading comeback was on the equities side, where revenue increased 4.7 percent. Fixed-income trading revenue was virtually unchanged at $139.8 million.
"Fixed-income sales and trading volumes were light during the period, particularly in our international rates business," Handler and Friedman said in the statement. Fixed-income revenue jumped 17 percent from the second quarter "despite lower levels of client engagement," they said.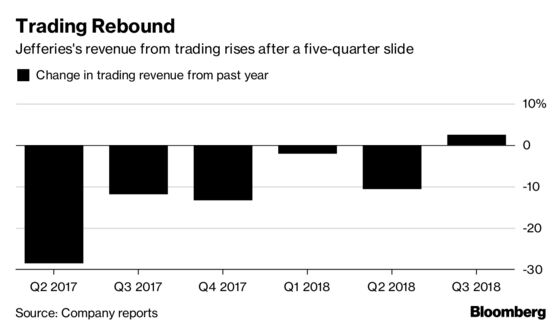 Net earnings slid 28 percent from a year earlier, to $60.2 million, while revenue dropped 2.9 percent to $777.6 million.
The firm had an effective tax rate of 31 percent for the quarter, which it attributed in part to "the impact of certain discrete items related to our non-U.S. subsidiaries planning for the Tax Act." In the future it said it expects to be taxed at about 27 percent.
The shares, which are down 13 percent this year, fell 2.5 percent to $23.11 at 10:06 a.m. in New York.
"The miss resulted primarily from debt capital markets revenues," Chris Kotowski, an analyst at Oppenheimer & Co., said in a note. He estimated overall revenue would be $880 million.
"Jefferies' revenues are disproportionately skewed to high yield and leveraged finance, and thus, we view it more as a market issue than a Jefferies issue," Kotowski said.
Some of the firm's bigger U.S. rivals have said they've been seeing a slowdown for trading.
JPMorgan Chase & Co. Chief Financial Officer Marianne Lake said at a conference this month that third-quarter trading revenue would decline "about mid-single digits" from the same period last year. Citigroup Inc. forecast its third-quarter equity and fixed-income trading revenue would be flat to "slightly higher" compared with a year ago.
Across finance, banks are turning to mergers and acquisitions and stock and bond offerings as a source of more stable fee income. Trading revenues for some of the biggest lenders surpassed expectations last quarter, but they had been suppressed earlier this year by a lack of volatility.
Jefferies's leaders were more optimistic about the final three months of the firm's fiscal year: "Our fourth-quarter investment-banking backlog is higher than that of any recent periods," they said.
Jefferies has built up its advisory and underwriting businesses over the past several years in an effort to reduce volatility in its results. In April, Jefferies's parent company changed its name from Leucadia National Corp. to Jefferies Financial Group Inc. as it sold off other businesses to focus on financial services.