JBS Rally Positions Stock as Top Candidate for Brazil Sale
(Bloomberg) -- A world-beating stock rally by Brazilian meat giant JBS SA may give a boost to President Jair Bolsonaro's efforts to replenish government coffers.
Brazilian development bank BNDES is planning to divest stakes in private-sector and state-owned companies, with JBS emerging in government discussions as a top candidate, a person with direct knowledge of the matter said, asking not to be named as talks are private.
Seen as a major beneficiary of pork-supply disruptions in Asia, JBS has surged 222% in the past year, the best performance among global peers. That's lifted the value of the state bank's 21% stake to a record 16.8 billion reais ($4.2 billion), from about 5 billion reais a year ago and about three times the holding's book value. JBS's valuation is now well above a five-year average while other major BNDES holdings, such as Petrobras SA and Vale SA, are trading at discounts.
JBS is the world's biggest meat company, with operations in North America, Europe and Australia. As such, the Sao Paulo-based producer is set to benefit from a disease slashing pork supplies in China. The company has emerged from a 2017 corruption scandal by replacing top executives, beating earnings estimates and reducing debt.
On Tuesday, JBS fell 3.6%, the most in a month, as Brazil's benchmark rose 1.4%. BNDES didn't immediately comment when asked about its divestment priorities.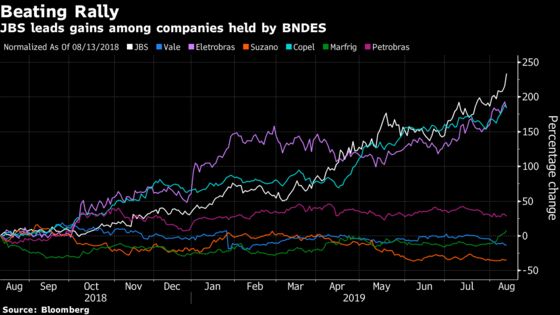 Former Banco BTG Pactual SA executive Gustavo Montezano, who was appointed chief executive officer of BNDES in June, has promised to speed up the sale of the almost 110 billion reais in equity stakes held by the bank. Shareholdings also include beef supplier Marfrig Global Foods SA and pulp producer Suzano SA.
BNDES, the biggest JBS shareholder after the Batista family, played a crucial role in the Brazilian meat producer's expansion overseas.
The lender injected 5.6 billion reais for the acquisition of Swift & Co. in 2007, the beef-producing units of Smithfield Foods Inc. in 2008 and poultry producer Pilgrim's Pride Corp. in 2009. An additional 2.5 billion reais had been poured into Bertin SA, which was acquired by the Batistas in 2009.
Ties between the lender and the company became a target of the nation's audit court in 2015 amid alleged evidence of "special treatment," which both JBS and BNDES have repeatedly denied.
In 2017, Joesley Batista, one of the brothers who control JBS, admitted to paying bribes to a former government official in return for transactions with the state bank. The revelations raised questions about unfair competition abroad as JBS gobbled up more than 40 rivals on four continents between 2007 and 2017.
BNDESPar, the development bank's investment arm, said earnings in the first six months of 2019 more than doubled from a year earlier to 8 billion reais.