JBS Emerges From Bribery Scandal to Become Bond-Market Favorite
(Bloomberg) -- The world's largest meat producer is emerging from a bribery scandal as a bright spot in the corporate debt market as the company benefits from strong U.S. beef demand and the weaker Brazilian real.
Bonds issued by Sao Paulo-based JBS SA have generated the biggest returns among meat-producing peers globally this year. Its $750 million of notes due in 2024 have posted a 6.2 percent gain, compared with an average 2 percent loss for 450 securities from food companies with at least $500 million of debt, according to data compiled by Bloomberg.
The rally shows just how far JBS has come since last year, when bribery confessions from Wesley and Joesley Batista, the billionaire brothers who control JBS, sent shares and bonds plunging. The company subsequently shed assets, paid down $2 billion of debt and extended maturities on its obligations, bringing down short-term borrowing to a record low.
The meatpacker's bonds have become the most attractive for investors in Brazil's protein sector, according to reports this month by Mizuho Securities USA in New York and Sao Paulo-based XP Investimentos.
JBS's move to cut debt levels reduced the risk the company would struggle to roll over its obligations, bolstering investor confidence, according to Roger Horn, a senior emerging-markets desk analyst at SMBC Nikko Securities America Inc.
"Removing liquidity risk helps with the financial community," Horn said. "That was absolutely the right decision to take."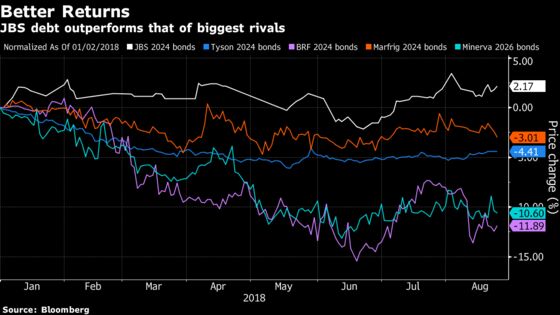 The meat giant has also benefited from record profit at JBS USA Beef -- its biggest unit, with operations spanning Australia, Canada and the U.S. -- amid stronger demand from Japan and South Korea. Also bolstering results is an 19 percent drop in the Brazilian currency this year, which creates more reais when JBS converts its overseas income. In the second quarter, earnings before interest, taxes, depreciation and amortization jumped 13 percent to 4.24 billion reais ($1 billion), while remaining flat in dollar terms.
"The geographic diversification is helping them," said Omar Zeolla, an analyst at Oppenheimer & Co., who added that improved results for JBS's U.S. beef business more than offset weaker profit margins in its U.S. and Brazilian chicken and pork businesses.
JBS's parent company last year agreed to pay 10.3 billion reais as part of a leniency agreement with Brazilian prosecutors after the Batista brothers confessed to bribing more than 1,800 politicians and gave evidence against President Michel Temer, wreaking havoc in Brazil's financial markets and political circles. The company has also held talks with the Department of Justice for a settlement in the U.S.
"The legal risks are still there, but the company is large enough to withstand any difficulties in that regard," Zeolla said.