Japan's Outperforming Travel Bonds Show Bets Worst Is Behind
(Bloomberg) -- The global spread of Covid-19 variants recently has taken the shine off a rally this year in many travel-related financial securities, but investors are still betting that firms with stronger finances will put the worst behind them.
Japan is an example of that. Its two main carriers, ANA Holdings Inc. and Japan Airlines Co., are both planning debt sales, and yield premiums on their outstanding notes have decreased from highs last year.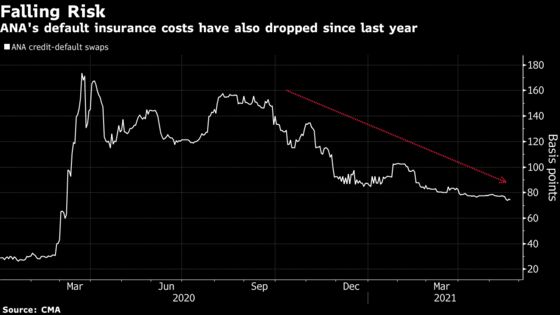 The spread on ANA bonds due 2039 has tightened 28 basis points from a high in November, Bloomberg-compiled prices show. JAL's 2028 notes have moved in a similar fashion, while travel agency HIS Co.'s 2027 yield premium has plunged 84 basis points in that period. Japanese corporate bond spreads overall have declined only about 6 basis points during that time, according to a Nomura BPI index.
The companies dodged the worst of the hardship facing many global peers in part by taking steps to raise money in debt and equity markets since last year. That's helped them ride optimism about vaccine progress in some countries. Other carriers in Asia have seen their debt securities slide. The price of PT Garuda Indonesia's dollar sukuk, for example, has declined to around the lowest since January, as the company needs to completely restructure its business.
Read a Southeast Asia Credit Wrap on airline strains
The past fundraising by the Japanese firms to bolster their finances and the possibility that the worst may be over for travel may make their debt worth considering for investment, according to Toshiyasu Ohashi, chief credit analyst at Daiwa Securities Group Inc.
Still, uncertainties remain high for the travel sector, with Bloomberg Intelligence saying that the spread of a Covid strain suspected of sparking India's second wave may halt activity longer than markets expect.
See also: Credit Market Looks to Ryanair Bond for Signs of Travel Rebound
Global travel as measured by revenue passenger kilometers will likely recover to 43% of 2019 levels, with domestic markets improving faster than international travel, the International Air Transport Association said last month.