Japan Stock Plunge Marks Half a Trillion Dollars Lost in 2018
(Bloomberg) -- Japanese shares slumped on Tuesday, marking more than half a trillion dollars lost in market value this year, on growing investor concerns over upcoming corporate earnings and a slowdown in China's economy.
The Topix index tumbled 2.7 percent to its lowest in more than a year, extending its decline this year to 9.2 percent. The Tokyo Stock Exchange's first section shaved off $529 billion, poised for its worst annual performance since 2011. Technology and chemical companies weighed most heavily on the benchmark gauge ahead of a slew of earnings reports. About 200 Japanese companies are due to report results this week.
China's Shanghai Composite Index, which the Topix has recently been trading increasingly in sync with, fell more than 2 percent. Risks still abound across global markets, from a continuing U.S.-China trade showdown and tension surrounding the killing of a Saudi journalist to Italian budget fears and President Donald Trump's unpredictable actions ahead of American midterm elections.
"There are lingering concerns over a slowdown in China's economy, and the weakness in Chinese stocks are adding downward pressure on Japanese stocks," said Hiroaki Hiwada, a strategist at Toyo Securities Co. in Tokyo. "The Japanese equity market is vulnerable to sentiment in the U.S. and Chinese markets."
In Japan, housing materials maker Lixil Group slashed its full-year earnings forecasts, citing delays in new construction after natural disasters and weaker overseas demand. "We're probably going to see more examples of similar cases," said Toshihiko Matsuno, who works in investment research and services at SMBC Nikko Securities Inc.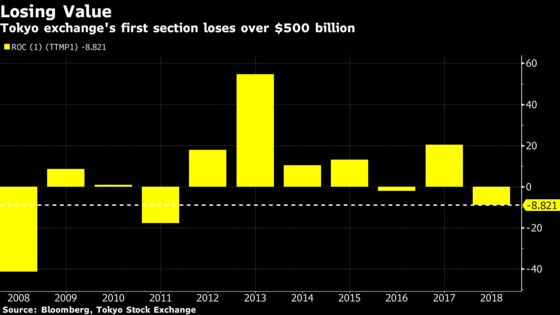 Topix -2.6% to 1,650.72 at the close in Tokyo
Nikkei 225 -2.7% to 22,010.78
Yen +0.3% at 112.44 per dollar
Electronics group: Keyence -4.4%, Sony -2.0%, Canon -2.9%
Chemicals group: Kao -5.3%, Shiseido -4%, Nitto Denko -5.8%
Lixil -16% after its earnings guidance misses the lowest analyst estimate; other housing stocks fall: Sekisui House -4.3%; Taisei -5.6%