Japan Taking Steps to Prevent Another Ghosn-Like Escape
(Bloomberg) -- Japan vowed to strengthen its border checks and take a closer look at bail practices to prevent further lapses such as the one that let fallen auto titan Carlos Ghosn flee the country without being detected, the justice minister said.
Masako Mori declined to give any details of how Ghosn managed to leave without a trace, telling reporters on Monday that the matter is under investigation and steps are already being taken. This was the first time a government official has held a news conference about Ghosn's departure since reports emerged almost a week ago that the former chief of Nissan Motor Co. and Renault SA had secretly made his way to Lebanon.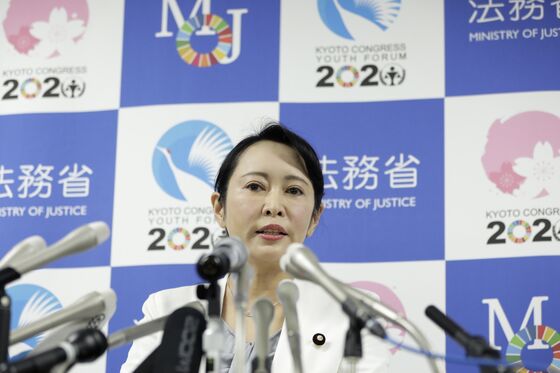 Japanese authorities are coming under greater pressure to explain how such a high-profile suspect was able to escape despite round-the-clock surveillance.
Mori mostly reiterated remarks from a statement the previous day, saying that Ghosn was thought to have used illegal measures and that this was extremely regrettable. She defended the Japanese criminal justice system, which Ghosn and others have repeatedly attacked as unfair.
Ghosn, arrested in November 2018 on charges of financial crimes, had been free on bail as he awaited a trial that was scheduled to start this year. He has denied all of the charges, saying they were part of a conspiracy to prevent further integration between the two automakers.
Mori said the system protected individual rights and was implemented appropriately.
Akira Amari, tax panel chief of Prime Minister Shinzo Abe's ruling Liberal Democratic Party, has said that Ghosn arranged his escape through illegal means because the former auto executive thought he was above the law by misusing company money. "Japan is a country ruled by law and to allow this would show contempt for Japan's legal system," Amari said in a televised interview Sunday.
Ghosn was aided in his escape by two Americans with backgrounds in private security, who were listed on the manifest of the getaway flight from Osaka to Istanbul, people familiar with the matter said. Inspectors at Japan's Kansai Airport didn't conduct X-ray checks on large cases that were brought aboard a private jet on which Ghosn is thought to have made his getaway, public broadcaster NHK reported Sunday.
Nissan shares fell to their lowest since 2011 as of Monday afternoon in Tokyo, following the Ghosn news, an extended bank holiday in Japan and weak U.S. auto sales figures.