Japan's Retail Sales Rebound Strongly in June After May Drop
(Bloomberg) -- Japan's retail sales rebounded in June, recovering from a sharp drop in May and offering a sign of improved consumption in the second quarter.
Highlights
Retail sales rose 1.5 percent in June (forecast +1.5 percent) from May, when they fell 1.7 percent.
Sales increased 1.8 percent from the previous year (forecast +1.7 percent).
Sales at department stores and supermarkets climbed 1.5 percent from a year earlier. 
Retail sales have largely recovered from a weak first quarter, despite a sharp drop in May. Still, tepid wage gains mean Japanese shoppers remain reluctant to really ramp up spending. That leaves Japan's economic recovery still reliant on exports at a time when the trade outlook looks increasingly cloudy, with the U.S. considering tariffs on car imports.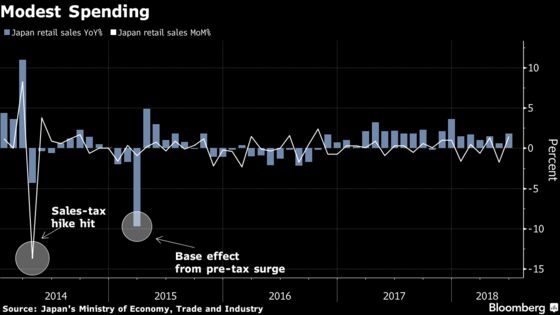 "The January-to-March quarter was depressed quite a bit due to various effects including snow, so it's natural to expect a rebound," said Masaki Kuwahara, senior economist at Nomura Securities Co.
"But this alone won't change the overall picture much, especially since the central bank has repeatedly said the economy itself is doing well," Kuwahara said. "It's just that inflation isn't quite keeping up."
"When you look at the June figures alone, there's no question that consumption is recovering," said Atsushi Takeda, chief economist at Itochu Corp.
"I think we can expect good results in July because bonuses have been increasing," Takeda said. "July will be a key month to determine the trend of consumption."
The main contributors were fuel sales, which rose 17 percent from a year earlier due to higher oil prices, food and beverages, and medicines and toiletries
Air conditioners also sold well, thanks in part to higher temperatures
Demand from inbound tourists remained strong, rising from a year earlier