Japan's Inflation Slows Again as Cheaper Oil Undermines the BOJ
(Bloomberg) -- Japan's key inflation gauge slowed again in December, highlighting the difficulty of reaching the central bank's 2 percent price goal and its dependence on oil prices.
Consumer prices excluding fresh foods rose 0.7 percent from a year earlier in December, for the first back-to-back slowdown since April as energy costs offered less support for inflation, according to the ministry of internal affairs Friday. That's slightly weaker than a median estimate of 0.8 percent.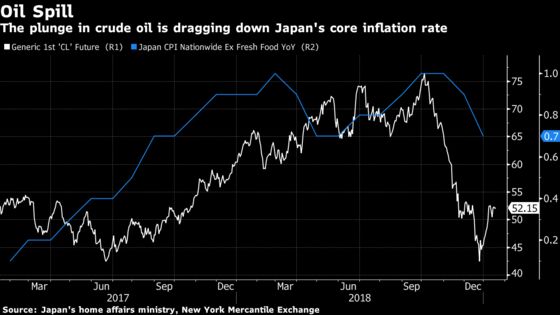 Looking beyond the weakening support from energy prices on cheaper oil, the BOJ has little price growth to point to in support of its claim that inflation momentum has been maintained.
The slowdown thanks to cheaper crude is likely to prompt the BOJ to cut its inflation forecast at next week's policy meeting, according to people familiar with the matter.
An increasing number of economists think the BOJ will stick with its current stimulus this year, even as side effects increase.
Slower inflation could stimulate consumption since Japanese households remain wary of higher prices. The government is on guard against anything that may reduce household spending ahead of a sales-tax hike scheduled for October.
Some economists, including former BOJ chief economist Hideo Hayakawa, point out the risk of core inflation diving below zero percent this year.
What Our Economist Says ...
"Potential declines in mobile charges and child education costs, driven by Prime Minister Shinzo Abe's policies, mean core inflation could face even stronger downward pressure toward the end of this year," said Bloomberg Economics' Yuki Masujima.

--For more, see our JAPAN REACT.
While energy prices are still propping up overall prices, that support fell by nearly 0.2 percentage point from November. Cheaper mobile phone charges shaved another 0.1 point.
Overall, consumer prices rose 0.3 percent in December from a year ago, in line with expectations, as sharp falls in vegetable prices dragged.
Excluding energy and fresh food, inflation rose 0.3 percent, also matching forecasts.